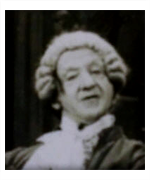 Nikki Le Roy
Born: 05 . 03 . 1913
First Appearance: February 1965
Curtain Call: 10. 11. 1982

---
Nikki Le Roy was born Leslie Michael Ash, changing his name to Le Roy in the early 1930's. His professional life is centred on playing under-study for The Second Stranger in the production of "The Little Hut", M Andre Roussin's comedy, at the Lyric Theatre London, which recorded 1,260 performances following its opening on August 23rd 1950.
Leslie Le Roy toured with the production's 'Shadow Cast' appearing in Nottingham (1953) Bristol (1953 – 1954), Brighton (1954).
Nikki spent many years in Brighton working with Brighton Theatrical Costumiers, 34 Upper North Street, alongside owner P. M. Ailon.
In February 1981 Nikki retired from the Le Roy Players having had a nervous breakdown and on November 12 1982 he died of a heart attack.
---
02/1965 – The Queen and the Welshman – Additional Costumes
10/1965 – A Man for All Seasons – Cardinal Wolsey
12/1965 – Such a Place in Time – Costumes
11/1966 – Gigi – Costumes
01/1967 – Night Must Fall – Costumes
03/1967 – Hay Fever – Costumes
05/1967 – The Queen and the Rebels – Costumes
10/1967 – The Crucible – Costumes
12/1967 – Hay Fever – Costumes
02/1968 – The Little Hut – Director
05/1968 – The Poker Session – Costumes
03/1969 – The School for Scandal – Sir Peter Teazle – Director, Costumes
05/1969 – You Never Can Tell – Costumes
05/1970 – Hotel Paradiso – A Duke – Director
12/1970 – Pride and Prejudice – Mr. Bennet
02/1972 – Lady Windermere's Fan – Parker – Director, Design
05/1972 – Salad Days – Troppo
11/1972 – A Lion in Winter – Director
02/1973 – Barefoot in the Park – Delivery Man
10/1973 – Trelawney of the 'Wells' – Augustus Colpoys
04/1974 – An Italian Straw Hat – An actual personal appearance – Director
05/1975 – Othello – A Clown, A Herald – Director, Costumes
---