The Barn Theatre, Southwick Community Centre
October 2, 3, 4, 5 & 6, 1973
Trelawny of the 'Wells'
by A. W. Pinero
Directed by
Frances Moulton
---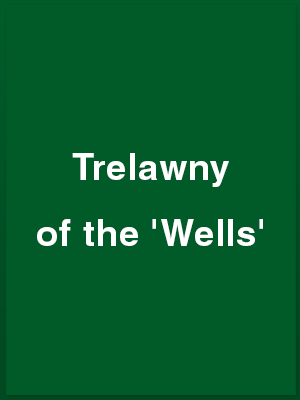 Theatrical folk of the Bagnigge-Wells Theatre – Cast
Brian Moulton – James Telfer
Nikki Le Roy – Augustus Colpoys
Neil Shepherd – Ferdinand Gadd
Barrie Bowen – Tom Wrench
Betty Dawes – Mrs. Telfer [Miss Violet Sylvester]
Alison Lees – Avonia Bunn
Hilary Wiltshire – Rose Trelawny
Miranda Bowen – Imogen Parrott [of the Royal Olympic Theatre]
Alan Upton – O'Dwuyer [Prompter of the Pantheon Theatre]
Helena Drzyzga – Member of the Company of the Pantheon Theatre
Roy Roberts – Member of the Company of the Pantheon Theatre
Bill Mack – Members of the Company of the Pantheon Theatre
Michael Donkin – Hall Keeper of the Pantheon

Non-Theatrical folk – Cast
Ralph Dawes – Vice-Chancellor Sir William Gower
Roger Job – Arthur Gower [grand child]
Sheila Deasey – Clara de Fœnix [grand child]
Mary Payne – Miss Trafalgar Gower [Sir Williams's sister]
Roy Roberts – Captain de Fœnix [Clara's Husband]
Audrey Laye – Mrs. Mossop
Bill Mack – Mr Ablett
Alan Upton – Charles
Helena Drzyzga – Sarah
Production Crew
Stage Manager – George Laye
Design – Tony Morrison
Lighting – Frank Hurrell
Sound – Roger Stott
Costumes – Mary Payne
Costumes – Frances Moulton
Properties – Frances Thorne
Properties – Ann Baker
Assistant Stage Manager – Michael Donkin
Assistant Stage Manager – Tony Morrison
Assistant Stage Manager – Ethel Barrs
Hair Styles – Frances Moulton
Hair Styles – Miranda Bowen
Front of House Manager – George Penney
Programme Note #1: Trelawny of the 'Wells'
FM wrote "I first saw Trelawny of the 'Wells' as a child and it was this play that aroused my interest in drama. When I saw the play again 9 years ago at Chichester it still held the same magic for me. Since that time I have wanted to direct it. At last I have been given the opportunity to do so. I hope that our production of Trelawny will give you as much pleasure as I had when I first saw it so many years ago."
Programme Note #2: Trelawny of the 'Wells'
This will be our 25th season as a dramatic society and we intend to make it a gala occasion. The WICK A.G.M. was held very late this year – only just in time for a comment in these notes. Dramatic changes have taken place in the Officers and Committee. Three long-serving members are taking a well earned rest from management – Barrie Bowen, Vice President and Chairman; Jean Porter, Hon. Secretary and Betty Dawes a Founder Member in 1948.
They will still be very active in the company but will have more time to enjoy their acting, which no one would want to deny them considering the great amount of work they have got through in organising our workshop and putting the company on a firm financial footing. George and Audrey Laye are also retiring after three years of work on the Committee but, again, George is so active in set construction and Audrey in producing that the company will still benefit from their enthusiasm.
Now to the new team; George Porter was elected Vice-President, Ann Baker, Hon. Secretary and Monica Joyce Assistant Hon. Secretary. France Thorne, Jack Bingham, Bill Mack and Roger Stott were elected to the committee. Sheila Deasey remains Hon. Treasurer and Mike Donkin and Richard Porter serve a further term and provide the committee with continuity. These fresh minds should keep the WICK wheels working efficiently and we can expect some exciting new ideas for your future entertainment.
Our old Committee have planned a wonderful programme of plays for this season. Following this play in December Audrey Laye produces The Amorous Prawn. The New Year sees George Porter's production of Night of the Iguana and the season is completed with an exuberant romp – An Italian Straw Hat produced by our old friend Nikki Le Roy. This our last play of the season is next May.
Finally congratulations to out Radio Brighton Quiz Team. At the time of going to print we have won through to the Final of the Top Team competition which is to be held at the Brighton Film Theatre on September 13th. Well done Audrey Laye, Brian Mouton, Jack Bingham, Neil Shephard and Roger Stott. [web ed: The Team went on to win the Radio Brighton trophy]