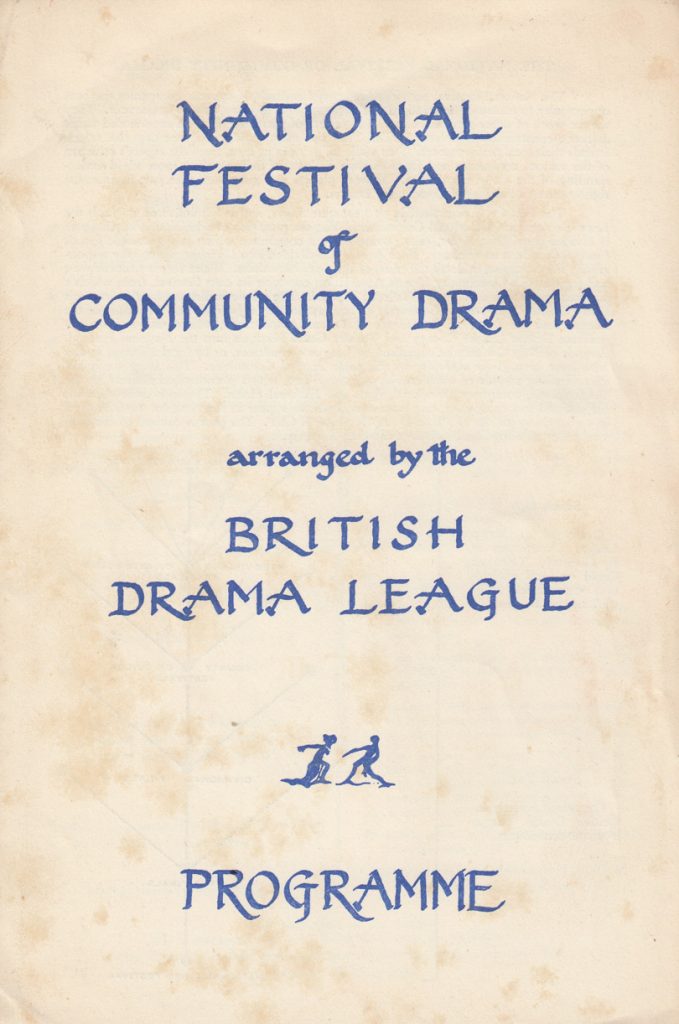 The British Drama League – "Festival of Community Theatre"
An annual event that started back in the early 1930's… with local organising bodies support the event, by staging the first competitive round.
Southwick & Fishersgate Community Association
incorporated a One-Act Drama Festival into its Festival of Arts & Crafts in 1954.
A full record of these Festivals is carried via links below, through to the last 1995 – this as part of the Community Centre's Golden Jubilee.
Each year connects to a page giving as much information as we have about competing companies, winners and any related media.
Some year's details are sparse and if readers have verifiable information that would fill the gaps; please contact us.
Archive Update via: Email
---
Won by: Young Wick Players
---
Won by: Kingston and District Women's Institute Drama Group
---
Won by: Young Wick Players
---
Won by: Southwick Players
---
Won by: Southwick and Fishersgate Townswomen's Guild Group
---
Won by: Southwick Players
---

---
Won by: Southwick Players
---
Won by: Young Wick Players
---
Won by: Southwick Players
---
Won by: Young Wick Players
---
Won by: The Phoenix Players
---
Won by: Wick Theatre Company
---
Won by: Wick Theatre Company
---
Won by: Wick Theatre Company
---
Won by: The Phoenix Players
---
Won by: The Phoenix Players
---

---
Won by: Aquarius Theatre Group
---
Won by: Aquarius Theatre Group
---
Won by: The Rother Players
---
Won by: The Rother Players
---
Won by: Wick Theatre Company
---
Won by: Wick Theatre Company
---
Won by: The Rother Players
---
Won by: The Rother Players
---
Won by: The Rother Players
---
Won by: Bognor Regis Drama Group
---

---
Won by: Southwick Players
---
Won by: Wick Theatre Company
---
Won by: Wick Theatre Company
---
Won by: Gemini Players
---
Won by: Gemini Players
---
Won by: Southwick Players
---
Won by: Southwick Players
---
Won by: Southwick Players
---
Won by: Bognor Regis Drama Group
---
Won by: Wick Theatre Company

---
Won by: Southwick Players
---
Won by: Wick Theatre Company
---
1992
No Festival held
Minutes of The Events Committee dated January 10 1991 [item 4/91]:
"Enquiries were being made with Adur District Council to see whether they would be prepared to sponsor the 1992 Drama Festival and incorporate in in their 'Adur Arts Festival' which is held during June."
---
1993
No Festival held
SCA Annual Report: "Another year has passed without holding the traditional One-Act Drama Festival. There are several reasons for neglecting this event; one of which is the lack of lighting experts, another back stage staff of the local companies find themselves hard pressed in the Spring to fit in week-long festival and finally the Barn Committee have yet to find a Festival Manager and a suitable slot in the Barn Theatre programme. We must plan for 1994."
---
1994
No Festival held
---
Won by: The Southwick Players
---
1996
No further Festivals held