The Barn Theatre, Southwick Community Centre
May 6, 9, 10, 11, 12 & 13 1972
Salad Days
by Dorothy Reynolds & Julian Slade
Directed by
Barrie Bowen
---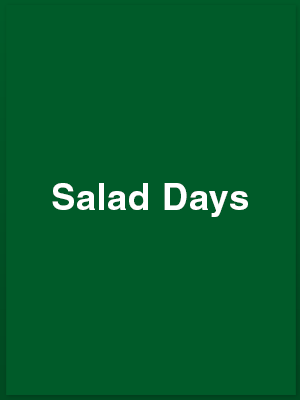 Cast
Jack Bingham – The Tramp
Ralph Dawes – Passer by
Sally Bacon – Passer by
Ann Baker – Passer by
Jane Durance – Passer by
Moyra Martin – Passer by
David Creedon – Don
Anthony Deasey – Don
John Davidson – Don
Neil Shepherd – Don
Sylvia Ryall – Jane
Michael Donkin – Timothy
Frances Moulton – Timothy's Mother
Neil Shepherd – Timothy's Father
Mary Payne – Aunt Prue
Sheila Wright – Lady Raeburn
Moyra Martin – Heloise
Valerie Burt – Assistant
Barbara Moulton – Manicurist
David Creedon – PC Boot
Ann Baker – Rowena
John Davidson – The Bishop
Nikki Le Roy – Troppo
Jane Durance – A Butterfly Catcher
Susan Hollis – An Artist
Sally Bacon – A Sunbather
Jane Smith – A Tennis Player
Anthony Deasey – Fosdyke
Jack Bingham – Sir Clamsby Williams
Neil Shepherd – Inspector
John Davidson – Nigel
Anthony Deasey – American
Sally Bacon – Shop Girl
Joy Talmage – Theatregoer
Jack Bingham – Theatregoer
Susan Hollis – Lady
David Creedon – Manager
Jane Durance – Fiona
Neil Shepherd – Tom Smith
Barbara Moulton – Waitress
Jane Smith – Slave
Miranda Bowen – Arms Dancer
Anthony Deasey – Arms Dancer
Brian Moulton – Augustine Williams
Sheila Wright – Asphynxia
Anthony Deasey – Pressman
Neil Shepherd – Pressmen
Frances Moulton – Lady
Betty Dawes – Lady
Mary Payne – Lady
Sally Bacon – Lady
David Creedon – Ambrose
Valerie Burt – Marguerite
Moyra Martin – Anthea
Neil Shepherd – Electrode
Anthony Deasey – Uncle Zed
Production Crew
Musical Director – Eric Thompson
Technical Director – George Laye
Design – Richard Porter
Stage Manager – David Wiltshire
Choreography – Miranda Bowen
Production Secretary – Lesley Rogers
Costumes – Pat Moss
Lighting Design – Frank Hurrell
Hair Styles – Janet Leaney
Piano – Peggy King, Eric Thompson
Percussion – David Green
Bass – Stuart Bartholomew
Rehearsal Accompanist – Margaret Ockenden
Assistant Stage Manager – Alan Upton
Assistant Stage Manager – Ethel Barrs
Assistant Stage Manager – Anita Job
Assistant Stage Manager – Roger Job
Wardrobe – Carol Brand
Wardrobe – Pat Mendum
Properties – Margaret Davy
Properties – Frances Thorne
Effects – David Ryall
Effects – Frank Hurrell
Construction – George Laye
Construction – Alan Upton
Front of House Manager – Paul Carpenter
Stills – John Elliott
Box Office – Jean Porter, Tel. Shoreham 3641 and at Southern Organs prior to each production
Programme Note #1: Salad Days
BB wrote: "It has been the policy of the Wick in recent years to present plays of an ever widening production scope and audience appeal. To-night's play is no exception. Experiments with multi-set plays and the dimension of music in revues and recently Oh, What A Lovely War have enabled us to present this full musical play.
This delightful – almost fairy tale – story was first presented by the Bristol Old Vic in 1954. It is full of comedy and fantasy, a commodity in somewhat short supply these days.
Salad Days has been a long standing ambition of mine to produce. Fantasy and entertainment are my escape. We all of us need the occasional escape from the daily pressures of our over developed industrial society, and I hope you can escape with us for two hours, and having left us after, remain for a while under its whimsical spell!"
Programme Note #2: Salad Days
"We emerged successfully from the looming shadow of the great power cuts and our last production, Lady Windermere's Fan went off without a hitch. Our audience seemed very enthusiastic about the play and the only real cloud across the scene was the recent death of our President, Mrs. Elizabeth Penney. She had been our foundress and guiding hand for 23 years and we are certain she would have wanted the show to go on as usual.
My very first meeting with 'Molly' was at her home during a rehearsal of her own play A Christmas Story, and I recall a great throng of people, some attired in multi coloured blankets, including the Rector Hugh Etherington. The centre of all the activity was Mrs. Penney, vital, authoritative, completely 'at home' among a crowd of young people. In fact, this was one of her great virtues – being involved and identifying with the younger generation – a mother figure.
The loss of Molly ends an era and it is proper to reflect in these notes on her achievements apart from bringing the Wick into being. Her play A Christmas Story was presented three times at the Barn Theatre by the company and was always a moving experience, particularly in 1965 when it was dressed in Byzantine style with appropriate decor. She acted and produced, although for the most part was content to guide. She played Lady Bracknell and the old Queen in Becket.
She had a great facility with words and wrote several short plays some of which, including a Festival of Britain pageant script, were performed by the Young Wick in the 1950's. Her most imaginative work was probably in her few poems: several of which she entered in the annual Southwick Arts Festival. Some of you will recall that Mrs. Penney, year after year took prizes in practically every section of the Arts from Creative writing, through painting to floral decoration. Perhaps her very variety of skills and diversity of interest is epitomised by her being Individual Cup Winner and First Lady of Southwick on so many occasions."
PS for the first time the programme carried "Patrons are requested not to smoke in the auditorium"