The Barn Theatre, Southwick Community Centre
March 30, 31, April 1 & 2
Frankenstein
by Nick Dear
from the book by Mary Shelley
Directed by Diane Robinson
---
"Treat a person ill and he will become wicked!" Percy Shelley
This powerful, electrifying adaptation of Mary Shelley's novel moves away from depicting Doctor Frankenstein's creation as the shambling brute of many earlier versions. This is still that Gothic tale, but rather than a tale of monstrosity, it is more a comment on the consequences of how we treat one another.
This moving story depicts Frankenstein's creature at the heart of the production, emphasizing the human message of the story, rather than a criticism of science.
This adaptation of 'Frankenstein' by Nick Dear was performed to great acclaim at The National Theatre in 2011.
This Wick production uses an original musical score played live, and an ensemble of actors to tell this story in a way that you won't forget.
---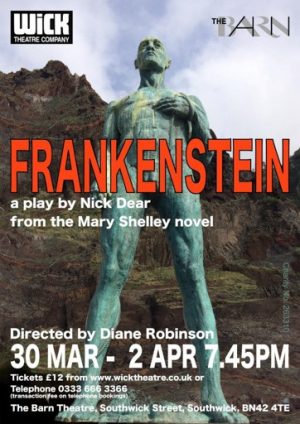 Cast
Phil Nair-Brown – The Creature
Sam Razavi – Victor Frankenstein
Claire Wiggins – Gretel/ Female creature
Rosy Armitage – Clarice
Dan Dryer – Gustav/Ewan
Abbi Crawford – Klaus/Rab
Derek Fraser – De Lacey
Giles Newlyn-Bowmer – Felix/Constable
Heloise Bliss – Agatha/Female Creature
Lizzie Kroon – Elizabeth Lavenza
Ethan Dryer – William Frankenstein
David Creedon – Monsieur Frankenstein
Peter Joyce – Servant 1
Maggi Pierce – Servant 2
Cherry Briggs – Townsperson, Servant
Emily Dennett – Townsperson, Servant
---