The Barn Theatre, Southwick Community Centre
June 22, 23, 24, 25
The Haunting of Hill House
adapted by F Andrew Leslie
from the book by Shirley Jackson
Directed by Guy Steddon
---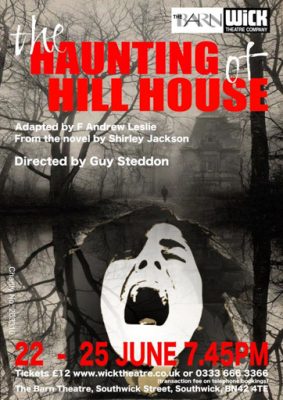 Hill House stands alone, holding darkness within; and whatever walked there … walked alone.
Paranormal Researcher, Dr Montague, rents the notorious Hill House for a summer of investigation and invites people whom he has chosen because of their experiences with supernatural occurrences, including the outgoing bohemian Theodora and shy timid Eleanor.
Together with Luke Sanderson, the heir to the house; they experience increasingly strange events: writing on the wall, whispers in the shadows. pounding at the doors and more. Eleanor, however, begins to experience phenomena to which the others are oblivious and slowly she begins to unravel …
Adapted by F. Andrew Leslie, with her blessing, from her celebrated 1959 novel of the same name, Shirley Jackson's The Haunting of Hill House is proclaimed by Stephen King as "the scariest ghost story of all time".
Cast
Rose Shaw – Eleanor Vance
Lorena Di Bitonto – Mrs Dudley
Naomi Dasilva Perez – Theodora
Guy Steddon – Dr John Montague
Luke Mepham – Luke Sanderson
Nicola Russell – Mrs Montague
John Garland – Arthur Parker
---