The Barn Theatre, Southwick Community Centre
September 14, 15, 16, 17
The Complete Works of Shakespeare (Abridged)
by Adam Long, Daniel Singer, Jess Winfield
Directed by Tony Brownings
---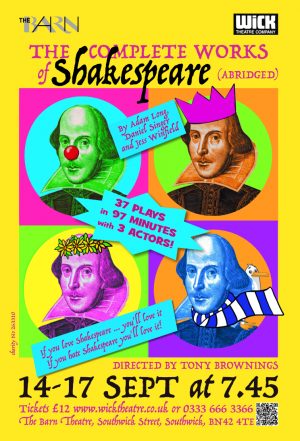 Cast
Three actors weave their way through all of Shakespeare's comedies, histories and tragedies that will leave you breathless with laughter.
Veritably, an irreverent fast-paced romp through the Bard's plays.
This is Shakespeare as you have never seen it before: as a football match, in rap, as a TV cookery programme and backwards …. whether you love your Shakespeare or not, you will love this!
---