The Barn Theatre, Southwick Community Centre
November 28, 29, 30 – December 1 & 2 1972
A Lion in Winter
by James Goldman
Directed by
Nikki Le Roy
---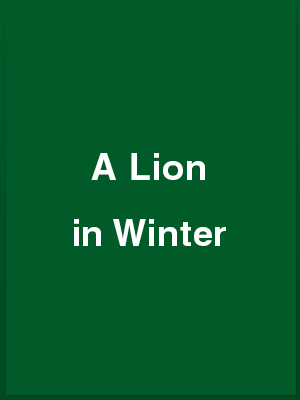 Cast
Brian Moulton – Henry ll, King of England
Hilary Wiltshire – Alais, a French Princess
David Peaty – John, the youngest son
John Davidson – Geoffrey, the middle son
Roger Stott – Richard Lionheart, the eldest son
Anna Welsh – Eleanor, Henry's wife
Neil Shepherd – Philip, King of France
Production Crew
Production Secretary – Lesley Rogers
Production Secretary – Bill Mack
Technical Director – George Laye
Designer – Vincent Joyce
Stage Manager – Frances Thorne
Assistant Stage Manager – Ethel Barrs
Assistant Stage Manager – Michael Donkin
Assistant Stage Manager – Ronald Bolt
Lighting – Frank Hurrell
Wardrobe – Mary Payne
Wardrobe – Carol Brand
Properties – Margaret Davy
Properties – Anita Job
Sound Effects – Margaret Ockenden
Furniture and Decor – Valerie Bingham
Hair Styles – Janet Leaney
Production Photographs – John Elliott
Front of House Manager – Paul Carpenter
Front of House Manager – George Penney
Programme Note #1: A Lion in Winter
NLeR wrote: "Henry ll, one of the Lions of English History was Manoeuvring in France at the time of this play. He had married Eleanor the Queen of the late King of France and a power with which to be reckoned. In due course they gave the province of Acquitaine to their eldest son Richard, this, together with being heir to the English throne made him very powerful. Added to which Henry had promised the late King of France, Louis, that his daughter Alais should be Richard's wife. In return for this Henry should have the province of Vexin, a small but important region owing to its proximity to Paris.
History has proved that politics entirely discount the human element which is, powerful people can throw the neat political arrangements into chaos – and that is the concern of the play – the personal relationships between the powers that be.
This is an underestimated play, the construction and the English are very fine. So fine, in fact, that one scarcely notices the many anachronisms."
Programme Note #2: A Lion in Winter
"If our first play of the season is considered typical of modern drama then quite of lot of you don't like it! The Wrong Side of the Park is also is also wrong for you or, perhaps, you don't like the way we do this modern stuff? Well, we invited comments in our last programme notes and we certainly got them.
A minor traumatic experience for some of us! The consensus seemed to be 'Some good acting but we didn't like the play'. We can't expect to be right all the time and in varying our programme we aim to please most of the time.
We dare to hope that you'll find The Lion in Winter very much to your taste. Nikki Le Roy, our director, has given us some wonderful shows in the past and you'll remember, no doubt, The Little Hut, The School for Scandal and Lady Windermere's Fan.
In the New Year we have planned for you two refreshing experiences – Barefoot in the Park by Neil Simon and The Boyfriend, both of which should send you away from the theatre with a song in your heart. Not that we've grown faint-hearted about modern fare. It is good for our acting members and we shall try the 'modern' and 'experimental' in our festival plays and training sessions for members.
A word about the switch of plays in case you wondered: We did advertise An Italian Straw Hat but it required 15 men and in the ultimate we could only raise 10. Rather than go into the highways and byeways for a wedding party we asked Nikki for an alternative play …. and what a fine choice it has turned out."