The Barn Theatre, Southwick Community Centre
April 27, 30 – May 1, 2, 3 & 4 1974
An Italian Straw Hat
by Eugene Labiche & Marc Michel
Produced and Misdirected by
Nikki Le Roy
---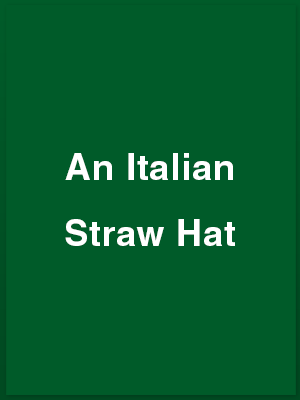 Cast
Dinkie Flowers – Front of the horse, Clotilde and a guest at the wedding
Frances Moulton – Back of the horse and La Comtesse de Champigny [A Society Hostess]
Helena Drzyzga – Virginia [Mme Beaujolais' Maid]
David Wiltshire – Felix [Fadinard's Valet]
George Porter – Vezinet [Helen's deaf uncle]
Barrie Bowen – Fadinard [the Bridegroom]
Neil Shepherd – Emile Tavernier [Captain of Zouaves]
Miranda Bowen – Annette [Mme Beaujolais]
Alan Upton – Nonacourt [The Bride's father]
Jane Durance – Helen [the Bride]
Stephen Hayler – Boby [the Bride's cousin]
Monica Joyce – Clara [a young & beautiful milliner]
Bill Mack – Tardiveau [Clara's cashier]
Nikki Le Roy – An Actual Personal Appearance by
David Wiltshire – a Footman
Mary Payne – La Duchesse de Chateau Gaillard
Suzanne Brocken – Mlle Ondine de Chateau Lapompe
Andrew Theaker – Le Duc de Chateau Gaillard
Dinkie Flowers – Clotilde [The Comtesse's maid]
Brian Moulton – M. Beaujolais [Annette's husband]
Andrew Theaker – A man in a nightcap
Clive Bull – Montmartre
Sally Browne – Guests at the wedding and the Comtesse's party
Sheila Deasey – Guests at the wedding and the Comtesse's party
Susan Blandford – Guests at the wedding and the Comtesse's party
Laura Martin – Guests at the wedding and the Comtesse's party
Iris Bamborough – Guests at the wedding and the Comtesse's party
Suzanne Brocken – Guests at the wedding and the Comtesse's party
Elizabeth Wrighton – Guests at the wedding and the Comtesse's party
Elsie Hilton – Guests at the wedding and the Comtesse's party
Roy Bull – Guests at the wedding and the Comtesse's party
Andrew Theaker – Guests at the wedding and the Comtesse's party
Warning Any resemblance between a member of the audience and a member of the cast is intentional and deliberately provocative.
Production Crew
Stage Manager – Paul Vrettos
Assistant Stage Manger – Valerie Bingham
Assistant Stage Manger – Ethel Barrs
Set Design – Barrie Bowen
Set Construction – Bill Mack
Set Construction – Andrew Theaker
Set Construction – Paul Vrettos
Costumes – Monica Joyce
Costumes – Frances Thorne
Lighting – Frank Hurrell
Sound – Roger Stott
Properties – Margaret Davy
Properties – Diana Parrish
Programme Note #1: An Italian Straw Hat
NLeR wrote: "You are invited to a wedding, a mad and ridiculous affair. The wedding cannot take place until the bridegroom has replaced an Italian Straw Hat which his horse has eaten on the very morning of the wedding. Why he has to replace the hat before he can get married none of us have yet discovered.
This is your chance to act: for once you do not have to sit quiet and suffer, it is a free for all and you may speak, shout and sing as you feel disposed. There are a few wedding guests there to lead the way so come and join in. To aid your singing the ditty is printed below. The tune, lead by Montmatre, is easy.
The whole of the theatre is the stage and you are on it – we wish you the very best of French luck.
DITTY
We are up for the wedding of dear little Helen and Mr. Fadinard
Full of elation, we drive in procession along the boulevard.
Uncles and Aunties by the score, sisters and cousins and friends galore
Dressed in the fashion and cutting a dash on the boulevard"
Programme Note #2: An Italian Straw Hat
"Tonight we introduce you into the impossible world of Nikki le Roy's Italian Straw Hat where hats are eaten, pigs do fly and the moon is made of green cheese. Just for one night we turn the world on its head and enjoy looking at it the other way up.
Congratulations to all those concerned in Night of the Iguana. This was a production which was very much admired.
Our 25th season is ending in a very satisfying style with Richard Porter's production of White Liars winning the Southwick Festival and being placed third out of nine plays in the Divisional Final at the Ashcroft Theatre, Croydon last Wednesday. This is an achievement to be proud of and we must set our sights on reaching Croydon next year as well.
Our plans for next year will be announced quite soon and the choice of plays suggests that this may be one of our outstanding seasons. Thank you for your loyal support. If you have anything you would like to say to us about our present, our past or our future, do feel free to write. We love receiving letters and we circulate them all."