The Barn Theatre, Southwick Community Centre
December 8, 9, 10, 11 & 12 1970
Pride and Prejudice
by Jane Austin dramatised by Helen Jerome
Directed by
Frances Moulton
---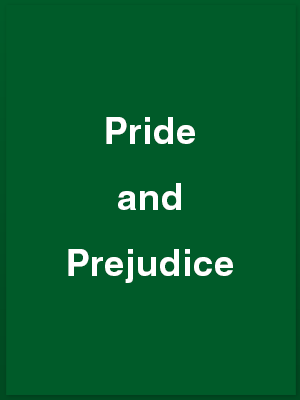 Cast
Nikki Le Roy – Mr. Bennet
Jean Porter – Mrs. Bennet
Audrey Laye – Lady Lucas
Sheila Deasey – Charlotte Lucas
Susan Brown – Elizabeth Bennet
Susan Welton – Jane Bennet
Coral Guildford – Lydia Bennet
Neil Shepherd – Mr. Darcy
Michael Padley – Mr. Bingley
Ralph Dawes – Mr. Collins
Richard Porter – Mr. Wickham
Margaret Ockenden – Miss Bingley
Valerie Bingham – The Lady Catherine de Bourgh
Ronald Bolt – Col. the Hon. Guy Fitzwilliam
Betty Dawes – Mrs. Gardiner
Joy Talmage – Hill, the Bennett Maid
Hilary Wiltshire – A Nurse [Mrs. Lake]
Mary Paine – Maggie
Hilary Goldsmith – play other parts
Julia Mathews – play other parts
Anthony Deasey – play other parts
Rickard Coussins – play other parts
Production Crew
Stage Manager – Barrie Bowen
Assistant Stage Manager – Aubrey Wooton
Wardrobe – Pat Moss
Wardrobe – Carol Brand
Effects – Terry Gibbs
Effects – Frank Hurrell
Lighting – Frank Hurrell
Properties – Frances Thorne
Properties – Margaret Davy
Front of House Manager – George Laye
Publicity Design – Andrew Edwards
Programme Note #1: Pride and Prejudice
BETTY DAWES is one of the founder members still with WICK. Amongst her many acting rôles, one will recall her Emma in Sailor Beware! and Watch It, Sailor, Blithe Spirit, The Hollow, The Happiest Days of Your Life and countless more. Betty is also a producer with The Girl Who Couldn't Quite, our fiftieth production A Touch of the Poet and a home-grown revue, Wickerwork, all to her credit.
Together with husband Ralph she is devising an experimental piece of drama on the theme of Discovery. This relies on the creative thinking of all involved. Its purpose is to extend the training of younger actors and would-be producers. It is to be part of a combined multi-team presentation at the Chichester Festival Theatre on February 23 next year.
Betty's longer term ambitions seem to lie in production with hopes of one day presenting Death of a Salesman, The Rainmaker or The Winslow Boy. These varied experiences as actress and producer are a valuable asset to us and we can look forward to seeing the results of her ambitions in the not too distant future.
NEIL SHEPHARD's first taste of acting was as a 6th form Petruchio in The Taming of the Shrew although his Southampton University reading of modern languages prevented any further acting for a time. Petruchio had exposed him to the benefits of acting. To quote – 'it has helped me escape my routine and discovered another self, whilst at the same time having a pleasant social life thrown in.'
Neil came to WICK in May 1969 to restart his acting interest and appeared at that time in Boeing-Boeing. Since then he has been busy along with most of the males in the company and has played in Wait Until Dark, Hotel Paradiso and Oh! What a Lovely War. Acting for Neil not only satisfies a creative thirst and social need, but he finds the challenge of variety between comedy and drama, and the diversity of skills required throughout the company to produce these plays, stimulating. These many facets of WICK all contribute to his satisfaction of belonging to a 'polished team' – to quote again. Well, if he's right let's hope we can maintain an attractive lustre for Neil and others like him.
Programme Note #2: Pride and Prejudice
"Fresh from Oh! What a Lovely War – an ambition achieved – we return to traditional theatre. To find a member uninvolved is currently most difficult. Whilst we like to see all members occupied it can have its problems. Often we have to forgo many embellishments that more time or members would otherwise allow us to develop for the good of the play and your enjoyment. Having said that let us point out that we are not making any excuses but rather an advertisement.
We have welcomed several new faces this season and, with a few more similar skills, an extension of ideas would soon be seen in the theatre. Those of you or your friends who are remotely interested are promised a full social life and, most of all, theatrical recreation. We're not difficult to get to know so why not come along and prove it.
We like the life and we are sure you would too.
We met most Mondays at the Community Centre adjoining this theatre or you can contact us through the Secretary,
Jean Porter, 26 Norman Crescent, Shoreham. Telephone 3641.