The Barn Theatre, Southwick Community Centre
October 6, 7, 8, & 9 + mat 2021
Clue: On Stage
based on the screenplay by Jonathan Lynn
written by Sandy Rustin
additional material by Hunter Foster & Eric Price
based on the Paramount Pictures Motion Picture
based on the Hasbro board game CLUE
original music by Michael Holland
Directed by Julian Batstone
Assistant Director Susanne Crosby
---
2021 BHAC Full Length Drama Competition
– Best Stage Crew
---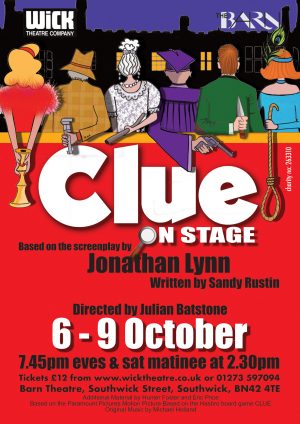 Cast
Guy Steddon – Wadsworth
Emily Dennett – Yvette
Jacqueline Harper – Miss Scarlett
Tanya Lyons – Mrs Peacock
Susanne Crosby – Mrs White
Matt Arnold – Colonel Mustard
Dan Dryer – Professor Plum
Luke Mepham – Mr Green
Andrea Jones – Cook & Telegram girl
Giles Newlyn-Bowmer – Mr Boddy, Motorist & Chief of Police
Paul Holden – Unexpected Cop
Production Crew
Stage Manager – Gaby Bowring
Deputy Stage Manager – John Garland
Lighting Design & Operation – Martin Oakley
Sound Design – Julian Batstone
Sound Design – Bob Ryder
Sound Operation – Brian Jones
Stage Crew – Peter Joyce
Wardrobe – Maggi Pierce
Wardrobe – Cherry Fraser
Properties – Di Tidzer
Properties – Doffey Reid
Set Design & Construction – Sue Chaplin
Set Design & Construction – Dave Comber
Set Design & Construction – Margaret Davy
Set Design & Construction – Nigel Goldfinch
Set Design & Construction – Carl Gray
Set Design & Construction – Mike King
Set Design & Construction – Sue Netley
Set Design & Construction – Gary Walker
Poster, Flyer & Programme Cover Artwork & Design – Judith Berrill
Promotional Film – Phil Nair-Brown
Publicity – Rosemary Bouchy
Publicity – Suse Crosby
Publicity – Peter Joyce
Programme – Suse Crosby
Photography – Miles Davies
Programme Note #1: Clue: On Stage
Welcome to a new Wick season and for many of you welcome back to the theatre. It is so good to be physically back on stage and we have a great show for the opening of our 2021/2022 season.
Back in the spring, we had no idea whether we would be able to put on a play in October, but we wantewd it to be a good one. So when Suse, my producer, said she had just seen that Clue: On Stage was available I jumped at the chnace to direct it.
The show is based on the 1985 film Clue which in turn is based on the board game Cluedo, called Clue in America. It has since become a classic and firm favourite of many. The play has all the usual suspects, weapons and rooms and while the film had 3 different endings with differet cinemas showing different ones, the play is slightly different…and what really happened, is for for you to decide.
The play is set in 1950s America. It is worth noting this is at the height of McCarthyism and the Red Scare, By definition, MyCarthyism is the practice of making accusations of subversion or treason wihtout proper regard for evidence. How aprops. No?
My thanks go to the hughely talented cast, and equally brilliant crew. A special thanks to Suse Crosby who signed on to help me even before we had a show and supported me throughout.
Along the way, we learnt to rehease outside, invented blended rehearsaing through a mixture of online and in person and we have laughed non stop.
All you have to do now is work out who did it.Enjoy