The Barn Theatre, Southwick Community Centre
January 5, 6, 7, & 8 + mat 2022
Pygmalion
by George Bernard Shaw
Directed by Mike Wells
---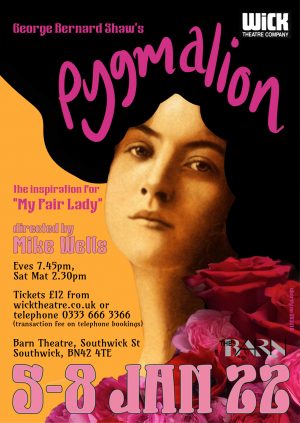 Cast
Lauren Brakes – Miss Eynsford Hill
Maggie Pierce – Mrs Eynsford Hill
Geoff Goble, Sue Goble, Peter Joyce, Cherry Fraser – Bystanders
Julian Batstone – Freddie Eynsford Hill
Rose Hall-Smith – Eliza Doolittle
Nick Roughton – Colonel Pickering
James Doyle – Henry Higgins
Anna Quick – Mrs Pearce
John Pounder – Alfred Doolittle
Pam Luxton – Mrs Higgins
Sue Goble – Parlourmaid
Production Crew
Production Manager – Caroline Woodley
Stage Manager – Peter Joyce
Deputy Stage Manager – Suse Crosby
Lighting Design & Operation – Martin Oakley
Lighting Design & Operation – Suse Crosby
Sound Design – Mike Wells
Sound Design – Bob Ryder
Sound Operation – Doffey Reid
Wardrobe – Caroline Woodley
Wardrobe – Maggi Pierce
Wardrobe – Cherry Fraser
Properties – Di Tidzer
Set Design, Construction & Painting – Sue Chaplin
Set Design, Construction & Painting – Dave Comber
Set Design, Construction & Painting – Margaret Davy
Set Design, Construction & Painting – Nigel Goldfinch
Set Design, Construction & Painting – Mike King
Set Design, Construction & Painting – Sue Netley
Set Design, Construction & Painting – Gary Walker
Poster, Flyer & Programme Cover Artwork & Design – Judith Berrill
Promotional Film – Phil Nair-Brown
Promotional Photography – PNB Photography
Dress Rehearsal Photography – Sam Taylor Photography
Publicity – Rosemary Bouchy
Publicity – Suse Crosby
Publicity – Peter Joyce
Programme – Suse Crosby
Programme Note #1: Pygmalion
MW wrote: " Welcome to the New Year and Wick's first production of 2022. Shaw's Pygmalion was written 110 years ago but is still relevant today – the experiment undertaken by Phonetics professor Henry Higgins to transform a young woman by changing the way she speaks was an attempt at 'levelling up' and revealed the shallowness of class snobbery of the era.
But it is not as a play about social attitudes that has kept Pygmalion so popular with actors and audience for so long. The complex relationship between Higgins and Eliza and the insights about the human heart made this special in 1912 and continue to make it one of SHaw's best dramas.
My thanks go to all the cast, backstage staff, workshop team, technical support. property and costume advosors and publicity team for their support and encouragement; and a special thanks to Caroline Woodley. We have enjoyed being part of a committed tram and hope yu enjoy the results of their hard worl.
Programme Note #2: Pygmalion
Shaw's Obsession: George Bernard Shaw [who preferred Bernard] wrote the character of Eliza for Mrs. Patrick Campbell with whom he had a passionate yet unconummated legendary affair. There are many parallels between Pygmalion, the sculptor in Greek myth who fell in love with one of his statues which then came to life, and Shaw and his muse.
Somed of Eliza's language was considered outrageous in 1914 and made the play a talking point. Mrs Patrick Campbell was considered to have risked her career in speaking the most controversial line: "Walk? Not bloody likely!" The use of the word 'bloody' was known as a 'pygmalion' for many years afterwards. BUt what has made it so regulalry performed ever since is its intriguing themes of language and class, men and women, and the evolving relationship between the creator and his creation: breaking free and becoming independent.