The Barn Theatre, Southwick Community Centre
March 8, 9, 10, 11 2023
The Merchant of Venice
by William Shakespeare
Directed by Sam Razavi
---
YouTube trailer link
---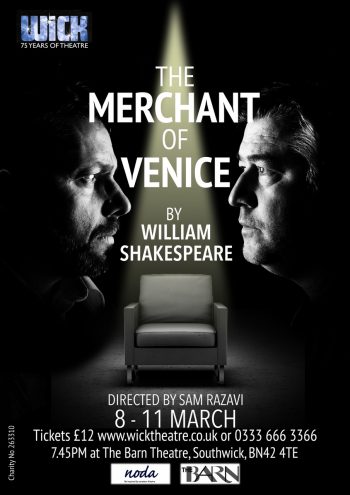 Cast
Antonio – a merchant of Venice : Guy Steddon
Shylock – a Jewish moneylender : Dan Dryer
Bassanio – a friend of Antonio and suitor to Portia : Sam Razavi
Salarino – various entities : Diane Robinson
Salanio – various entities : Rosy Armitage
Portia – a Belmont heiress and influencer : Nicola Russell
Nerissa – reality TV host and friend of Portia : Susanne Crosby
Gratiano – friend of Antonio, partial to a pint or twelve : John Garland
Lorenzo – in love with Jessica : David Aitchison
Jessica – daughter of Shylock : Lauren Brakes
Morocco – suitor to Portia : Abbi Crawford
Arragon – suitor to Portia : Luke Mepham
Launcelot – servant to Shylock : Emily Dennett
Gobbo – Gobbo – father to Launcelot : Peter Joyce
Duke – Duke of Venice : Peter Joyce
Servant – Messenger – Clerk : Ethan Dryer
---
Production Crew
Designer – Sam Razavi
Producer – Susanne Crosby
Stage Manager – Peter Joyce
Deputy Stage Manager – Peter Dilloway [member of Southwick Players]
Lighting Design – Martin Oakley
Lighting Design – Susanne Crosby
Lighting Operation Martin Oakley
Lighting Operation – Torrin Gieler
Sound Design – Sam Razavi
Sound Design – Bob Ryder
Sound Operation – Jeff Woodford
Costume Design and Wardrobe – Lindsay Midali
Costume Design and Wardrobe – Maggi Pierce
Costume Design and Wardrobe – Susanne Crosby
Properties – Di Tidzer
Properties – Doffey Reid
Properties – Lindsay Midali
Properties – Susanne Crosby
Set Design, Construction and Painting – Sue Chaplin
Set Design, Construction and Painting – Dave Comber
Set Design, Construction and Painting – Nigel Goldfinch
Set Design, Construction and Painting – Mike King
Set Design, Construction and Painting – Sue Netley
Set Design, Construction and Painting – Gary Walker
Programme Cover, Flyer and Poster Artwork – Judith Berrill
Publicity and Programme – Suse Crosby
Films – Trailer – Sam Razavi
---
Programme Note #1: The Merchant of Venice
SR writes: "This is my first time directing for the Wick Theatre Company, and how the stars align to have the pleasure of putting on this play, in this day and age ,,,, before it is too late! In a world where one cannot dare breathe for offending one person or another, I have no doubt in my mind that there will come a day when the absurdity of modern-day society will eventually succumb to being outraged, offended and feeling vulnerable for words and plotlines written by a poet some half a century ago, the denouement seeing some of the greatest literary works of all time retired eternally to the naughty corner to gather dust and be forgotten.
In just the last hundred years we have made some huge advancements in technology. We can speak to friends some thousands of miles away and see them at the same time – who would have thought that! We have travelled to the moon. Built robots. Yet from the very beginning of time, while the intellect and abilities of the human race seem to flourish and multiply beyond the imagination, we cannot find it within ourselves to eradicate the complete and utter absurd stupidity that is prejudice, from our day to day lives. What is it that keeps us feeding and watering this ugly and unwelcome monster that has walked hand-in-hand with the human race for centuries?
"The Merchant of Venice" is a superb vessel in highlighting the pitfalls of making unreasoned and unproven judgement of people, of giving power to those not fit to handle it; of hating each other simply because of differences such as religious or political beliefs. At best, it leads to nonsensical conflict – at worst, when the most undesirable of people are given permission to wield high the filthy arm of prejudice, it can lead to a scarring of history in the most horrific ways.
This is the classic story of the Jewish banker Shylock pitted against the Christian merchant Antonia; but more than that. It is a story that allows us to shine a light on issues that were, are, and will continue to be, fundamentally wrong in society.
I have to thank all the cast and crew for working so tirelessly on bringing this story to life and exercising patience and understanding in realising my vision of the play, to all the production team who have done wonders, to Miles Davies for his wonderful photography, and in particular to producer Suse Crosby without whose tireless assistance, advice and input throughout the process, the Merchant would not have docked his ship in Southwick!"
Programme Note #2: The Merchant of Venice
'Comedy, or not a comedy?' that is the question
Shakespeare's comedies are tied up neatly at the end: lovers married off, siblings reunited, everyone happy. Therefore, for this play to be classified as a comedy in current thinking is a bit of a problem, as one character is all but destroyed at the end. In Shakespeare's day it was probably seen as 'just deserts', and horrifyingly it took until the 18th Century for people to even start seeing character as sympathetic
.
Leading to the age-old question. Is this pay about anti-Semitism or is it an anti-Semitic play? That Shakespeare is able to write so beautifully from this character's viewpoint is empathy at least. The trouble is anti-Semitism is woven throughout the writing of the whole play – through the ways the characters refer to any Jewish people, including continuous sentiment that people only become better if the convert to Christianity. It is a play that shows prejudice in plain sight. It is easy to see that this was one of the most performed plays in Nazi Germany, with more than 50 productions between 1933 and 1939.
There are obviously some ridiculous comedic moments in other parts of the play. But, unless it's funny to laugh at someone having absolutely everything taken away from them: not just money and home but their personality, values and core beliefs – whatever they might have done to prompt this, comedy is surely the last thing it can be.
---