The Barn Theatre, Southwick Community Centre
March 30, 31, April 1 & 2 2022
Frankenstein
by Nick Dear
from the book by Mary Shelley
Directed by Diane Robinson
---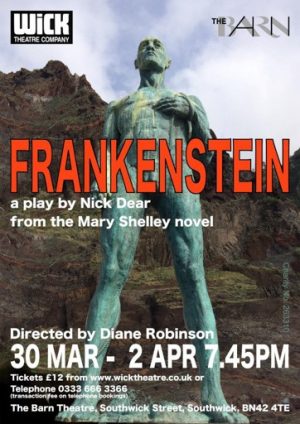 Cast
Phil Nair-Brown – The Creature
Sam Razavi – Victor Frankenstein
Claire Wiggins – Gretel/ Female creature
Rosy Armitage – Clarice
Dan Dryer – Beggar : Gustav / Crofter : Ewan
Abbi Crawford – Beggar : Klaus / Crofter : Rab
Derek Fraser – De Lacey
Giles Newlyn-Bowmer – Felix / Constable
Emily Dennett – Agatha
Lizzie Kroon – Elizabeth Lavenza
Ethan Dryer – William Frankenstein
David Creedon – Monsieur Frankenstein
Maggi Pierce – Servant 1
Peter Joyce – Servant 2
Cherry Briggs – Ensemble
---
Production Crew
Designer – Judith Berrill
Music Directors – Phil Jones & Scott Smith from Long Way Home Productions
Stage Manager – Gaby Bowring
Deputy Stage Manager – Julian Batstone
Choreographer – Jas Crawford
Costume Design – Lindsay Midali
Hair & Makeup – Chris Horlock
Specialist Properties Designer – Martin Oakley
Lighting Design – Strat Mastoris
Lighting Operation – Suse Crosby
Sound Design – Bob Ryder
Sound Operation – Jeff Woodford
Properties – Di Tidzer
Properties – Doffey Reid
Properties – Lauren Brakes
Set Design, Construction & Painting – Sue Chaplin
Set Design, Construction & Painting – Dave Comber
Set Design, Construction & Painting – Margaret Davy
Set Design, Construction & Painting – Nigel Goldfinch
Set Design, Construction & Painting – Mike King
Set Design, Construction & Painting – Sue Netley
Set Design, Construction & Painting – Gary Walker
Poster, Flyer & Programme Cover Artwork & Design – Judith Berrill
Publicity – Suse Crosby
Publicity – Rosemary Bouchy
Publicity – Peter Joyce
Promotional Film – Phil Nair-Brown
Dress Rehearsal Photography – Miles Davies Photography
Programme – Suse Crosby
Programme Note #1: Frankenstein
DR wrote : "Welcome to this production of 'Frankenstein', If you have ever felt like an outsider; if you've ever questioned your ability to be loved or to love; if you've ever agonised over the meaning of your existence, but lacked the words to express it, you will seee elements of yourself in Frankenstein's creature.
The story may have been written in 1817, but the themes are more relevant today than ever: themes of being an outsider, parental neglect, scientific responsibility, the nature of evil and just how humans themeselves create monsters.
Mary Shelley wrote 'Frankenstein', as many will know as part of a "'Ghost story' competition with husband Percy Shelley and friends Byron and Polidori. She was just 18! It was 'the year without a summer', when the eruption of the Indonesian volcano created a permanent ash cloud, creating perfect conditions for writing a Gothic horror story.
Shelley's novel echoes her own troubled family lie. Her morther died giving birth to her and her father disowned her when she elpoed at 16 in 1814 with Percy Shelley. Her first child, Cara, died that same year, Mary subsequently described a dream in which Clara was reanimated.
There are so many folks to thank for enabling this production of 'Frankenstein' to be realised: thank you so much to my wonderful cast, who have been such a delight to work with, to the inspirational creative team who were there from the beginning, to the amazing backstage team and anyone else who helped. Special thanks go to my husband Brian for his support and for being a great sounding board.