In Memory of
Alan Upton
— – . 07. 1928 – 05. 05. 2007
---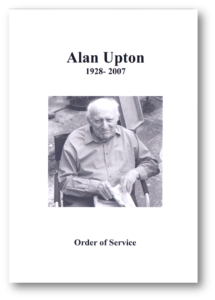 Shoreham Herald Thursday May 10 issue – page 7
FORMER Shoreham Herald Bygones columnist Alan Upton has died, aged 78.
Alan was born in Shoreham in July, 1928, and lived in the town almost all his life. When Britain declared war on Germany on September 3, 1939, he was 11 years old.
Shoreham was in the firing line and Alan saw many sights. He drew upon some of these experiences to write his Bygones articles. He also recounted the experiences of his father, Chief Petty Officer Reginald Upton, who was in the fire and rescue service at Portsmouth Naval Docks during the war. Before the end of the Second World War, Alan began a carpentry apprenticeship and worked in the trade until his retirement in 1993.
In 1972, Alan joined Wick Theatre Company and became a leading actor, appearing in many productions, notably as Felix in the Neil Simon play The Odd Couple. His carpentry skills again came in handy, with Alan making many of the sets for the shows. His last production was Guys and Dolls, in 1993, where he played Big Jule. [web ed: our cast list has Alan playing Benny the Greek]
On his retirement, Alan was able to devote more time to his great interest in local history and collecting. He was an avid collector of picture postcards, which he used in his Bygones articles. Even a week before his death, although quite ill, he went to the postcard fair at the Shoreham Centre and was snapping up all the cards he could find.
Alan was very proud of all the articles he wrote for the Herald, and his family can attest to the amount of time and effort he put into writing them.
Alan's other main passion in life was collecting old tins and shopping ephemera. He organised displays and talks about this, until he fell ill.
Alan died at Worthing Hospital last Saturday. A devoted family man, he leaves a widow, two sons and three grandchildren.

---