The Barn Theatre, Southwick Community Centre
January 6, 7, 10, 11, 12, 13 & 14 1978
Where The Rainbow Ends
by Roger Quilter
Directed by
Frances Moulton
---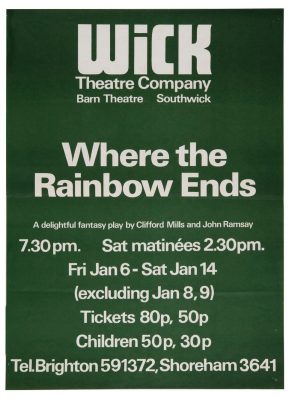 Cast
Mortals
Sarah Titley – Rosamund Carey
Simon Gray – Crispian Carey
Audrey Laye – Matilda Flint
Bill Mack – Joseph Flint
Abigail Rowe – William
Antony Muzzall – Jim Blunders
Meriel Burge – Betty Blunders
Tim Cara – John Carey
Sally Bacon – Vera Carey
Wendy Smale – Cubs, a baby lion
Immortals
Barrie Bowen – St. George
Brian Moulton – The Dragon King
John King – Dunks, his Chief Minister
Beverley Harris – The Genie of the carpet
Alicia Sporle – Will of the Wisp
Jane Vrettos – Sea Witch
Emily Reed – Sea Witch
Denis Picott – Slacker
Peter Joyce – Slacker
Karen Mitchell – Fairy Queen
Sarah Rose – Fairy
Karen Dewey – Fairy
Heidi Harrison – Fairy
Angela Paterson – Elf
Jason Lea – Elf
Melissa Lea – Elf
Cara Ticehurst – Woodmouse
Caroline Thomsett – Rabbit
Catherine Watt – Rabbit
Samantha Sawyer – Rabbit
Nicole Fisher – Rabbit
Nikki Boniface – Frog
Colette Fisher – Frog
Melissa Lea – Dragon Fly
Nicole Fisher – Dragon Fly
Sharon Tree – Spirit of the Lake
Neil Boniface – Hyena
Tim Watt – Hyena
Stephen Abraham – Hyena
Debbie Broadrib – Black Bear
Nikki Boniface – Dragon
Colette Fisher – Dragon
Jonathon Dawes – Dragon
Bruno Cass – Dragon
Amanda Dawes – Tree
Karen Mitchell – Rainbow Child
Bruno Cass – Rainbow Child
Emily Reed – Rainbow Child
Lee Topping – Rainbow Child
Sarah Rose – Rainbow Child
Nikki Boniface – Rainbow Child
Caroline Thomsett – Rainbow Child
Catherine Watt – Rainbow Child
Production Crew
Director Assistant – Sheila Wright
Choreography – Jeanette Goode
Music – Mary Radford
Stage Manager – Alan Upton
Assistant – Elizabeth Wrighton
Assistant – Elizabeth Prince
Set Design & Construction – Antony Muzzall
Set Design & Construction – Brian Moulton
Set Design & Construction – Peter Joyce
Set Design & Construction – Vincent Joyce
Lighting & Sound – Frank Hurrell
Lighting & Sound Assistant – Andrew Theaker
Properties – Frances Thorne
Properties – Margaret Davy
Front of House – Frances Moulton
Programme Note #1: Where The Rainbow Ends
FM wrote "I have enjoyed directing this play for many reasons, but mostly because of the tremendous help and support I have had from the young members in the cast, some of whom have given a great deal of their time in designing and building scenery. I have found it very rewarding in this day, when we are constantly being bombarded by juvenile hooliganism, to be privileged in seeing the other side of today's youth. I would like to take this opportunity of publicly thanking them.
I first read Where the Rainbow Ends, as a small child and like most children, forgot it. When I was asked to direct it for the Wick Theatre Company Christmas production, I read it again and thought what a charming story it was. It is such a delight to find a story where good triumphs over evil, children respect their elders and believe in ideals.
I hope you too will enjoy, in the next two hours, a light, happy, experience.."
Programme Note #2: Where The Rainbow Ends
It is not often that authors of plays find themselves under the heading 'plays and players' in our program but in this case Roger Quilter is of local interest. Roger Quilter was born at 4 Brunswick Square, Hove on November 1st 1877. Whilst he was to remain unmarried he held a remarkable love for children. Quilter's most successful work is Where the Rainbow Ends and when it was first produced in 1911 it was remarked upon as "the best fairy music since Mendelssohn's Midsummer Night's Dream". It says much for both Quilter's words and music that the play ran unbroken, apart for the war years, until the early '60s.
Our production has a cast full of youngsters many of whom answered our advertisement in the local press.
Sarah Titley presently at St. Mary's Hall has appeared with Shoreham Light Opera in Wizard of Oz.
Simon Gray is at Portslade Community College and has appeared recently in their production of Noah, he is also a member of the Southwick Operatic.
Sharon Tree also schools at Portslade and played the part of Naomi in Noah.
Alicia Spoors is at Sion Convent in Worthing and has appeared in her school's productions of Sound of Music, in which she played Gretel, and also King and I.
Karen Mitchell is at Neville Sec. and has been in Brighton Operatic's pantos as has Wendy Smale with Brighton & Hove Operatic.
Antony Muzzall is now at art college in Worthing, since leaving Kings Manor. Antony has acting experience with the school's productions.
Meriel Burge has appeared in Brighton Operatic's King and I.