The Barn Theatre, Southwick Community Centre
September 26, 27, 28, & 30 2018
Plaza Suite
by Neil Simon
Directed by
Graham Till
---
2018 BHAC Full Length Drama Competition
– The Mike Padley Award for Best Supporting Actress – Victoria Thomson for Jean McCormack & Muriel Tate
---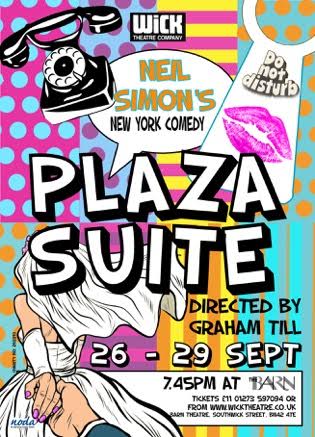 Cast
Act One : Visitor from Mamaroneck
Victoria Thomson – Jean McCormack
Act Two : Visitor from Hollywood
John Garland – Jesse Kiplinger
Victoria Thomson – Muriel Tate
Ian Mackenzie – Waiter
Act Three : Visitor from Forest Hills
Roger Frederick – Roy Hubley
Pam Luxton – Norma Hubley
Claire Brown – Mimsey Hubley
Tom Gould – Borden Eisler
Production Crew
Associate Director – Caroline Woodley
Stage Manager – David Comber
Deputy Stage Manager – Julian Batstone
Lighting Design & Operation – Martin Oakley
Sound Design – Bob Ryder
Technical Operation – Dan Dryer
Wardrobe – Caroline Woodley
Wardrobe – Maggi Pierce
Wardrobe – Cherry Fraser
Properties – Di Tidzer
Properties – Doffey Reid
Set Design, Construction, Scenic painting – Dave Comber
Set Construction, Design, Scenic painting – Sue Chaplin
Set Design, Construction, Scenic painting – Nigel Goldfinch
Set Design, Construction, Scenic painting – Carl Gray
Set Design, Construction, Scenic painting – Sue Netley
Set Design, Construction, Scenic painting – Gary Walker
Set Design, Construction, Scenic painting – Caroline Woodley
Set Design, Construction, Scenic painting – Judith Berrill
Photography – Gary Walker
Publicity – Judith Berrill
Publicity – Rosemary Bouchy
Publicity – Peter Joyce
Publicity – Maggie Pierce
Poster & Programme Design – Judith Berrill
Front of House – Tor Dunster-Best & The Wick Team
Programme Note #1: Plaza Suite
Neil Simon [who recently died at 91] had three comedies and a musical running on Broadway in 1967 – the year I first set foot on the sidewalks of the vibrant brash noisy home city that formed the backdrop to his work. I still recall the excitement at being engulfed by its energetic, optimistic, assertive citizenry, always hurrying, hailing yellow cabs, yelling orders and greetings across crowded delis.
Plaza Suite opened the following year, 1968. Set in Suite 719 of the iconic luxury hotel at the foot of Central Park, it shows Simon's range of comedy skills in what are effectively three one-act plays, as three different couples lay bare the stresses and pitfalls of marriage. The long-wedded Nashes are barely clinging onto their union; two former high school sweethearts seek solace from their failures; and the farcically warring Hubleys finally grasp why Mimsey their much-loved only child has locked herself in the bathroom on her wedding day.
I hope you like the set our brilliant design and workshop teams have fashioned and get happily lost in these three theatrical mini-worlds. Actors aged from seventeen up reveal Mr Simon's central truth that pain is the root of comedy, playing unhappy people delivering witty one-liners – the trademark approach of arguably America's finest twentieth century playwright.
And I hope, whatever age you are, you wallow in the nostalgia for a golden time in NYC popular culture, theatrically, musically, and in other ways. Play sort the references! I was married in New Jersey just across the Hudson, and as you can probably tell, I still love New York.
We present our final anniversary season offering for your pleasure. Enjoy.
Note #2: Plaza Suite
Brighton and Hove Arts Council:
"We are delighted to confirm that this year's Adjudicator will be Jane Collins, Professor of Theatre and Performance at Wimbledon College of Art. She is a writer, director and theatre-maker who has worked all over the UK, including Sheffield, Manchester and York and at the Royal Court Theatre in London. Internationally she has strong links with the continent of Africa with projects in Kenya, Uganda and Tanzania and with the Market Theatre in Johannesburg. She co-edited Theatre and Performance Design: a Reader in Scenography, published by Routledge in March 2010. This book, with over 52 texts, is the first of its kind in this field. In 2009, Collins restaged the award-winning Ten Thousand Several Doors for the Brighton International Festival and her essay on this production is included in the collection, Performing Site-Specific Theatre: Politics, Place, Practice published in autumn 2012. Jane is a member of TrAIN and in 2014 was awarded a network grant from the AHRC, Performing Romani Identities: Strategy and Critique. A chapter on this project 'Scenography Matters: Performing Romani Identities: Strategy and Critique' appears in Scenography Expanded, an introduction to contemporary performance design, Bloomsbury 2017. She is founding member of UAL Performance Network, an interdisciplinary network of artists who run workshops and performance-related events across the university and co-editor of the Routledge journal Theatre and Performance Design."