The Barn Theatre, Southwick Community Centre
August 9, 10 & 11, 2007
Our Day Out
by Willy Russell
Directed by
Mark Best
---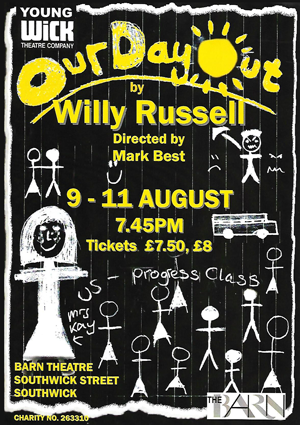 Cast
Ian Grover – Colin
Sammy Scammell – Susan
Matt Bayford – Morris
Tom Pearson – Reilly
Hugo Harwood – Digga
Rhys Webb – Andrews
William McDonald – Ronson
Miles Bland – Kevin
James Villiers – Jimmy
Tom Harris – Driver
Kirsty Biss – Carol
Allegra Drury – Karn
Sophie Lane – Linda
Rols Ham-Riche – Les
Danny Bayford – Shopkeeper & Zookeeper
David Thomas – Shopkeeper & Zookeeper
Katie Whitmore – Child
Addie Marten – Child
Holly Knight – Child
Chloe Dyer – Child
Nikki Dunsford – Mrs. Kay
Ian White – Mr. Briggs
Bob Ryder – Headmaster
Production Crew
Assistant Directors – Kevin Isaac
Assistant Directors – Ryan Lainchbury
Stage Manager – David Comber
Technical Stage Manager – Helen Brewster
Lighting Design – Mike Medway
Lighting & Sound – Mike Medway
Lighting & Sound – Jonathon Weldon
ASM – Zoey Attree
Projection – Kevin Isaac
Projection Design – Helen Brewster
Properties & Costume – Zoey Attree
Workshop Team – David Comber
Workshop Team – David Collis
Workshop Team – Richard Bulling
Backstage Crew – Andrew Cleveland
Backstage Crew – Dan Upton
Backstage Crew – Richard Bulling
Publicity & Design – Rosemary Bouchy
Publicity & Design – Rosemary Brown
Publicity & Design – Helen Brewster
Production Photos – Lucien Bouchy
Front of House – Betty Dawes
Box Office – Margaret Murrell
Box Office – Mark Flower

Programme Note #1: Our Day Out
MB wrote: "Our Day Out is Young Wick's fourth major production and my fourth year directing this talented group of young performers. I cannot express enough the pride and gratitude I have towards this dedicated cast. Their energy and enthusiasm h been shown in every aspect of the production. I wish to also thank Ryan Lainchbury and Kevin Isaac, who have been supportive throughout.
On and off stage, Young Wick have contribute to designing and putting together the production getting involved in lighting, sound, costume and publicity. They have proved, after winning Brighton & Hove Council awards lat year, that they are an ensemble company who can perform and produce show of excellence standards.
Our Day Out was written in the late 1970s by Willy Russell. The play is based on his experiences of trips in his own school in Liverpool. The play chronicles a day out for the progress class taken by their teacher Mrs. Kay. Determined they should enjoy themselves, she is overshadowed by the oppressive senior teacher Mr. Briggs, who believes the kids should behave and have fun in an orderly fashion.
Let Young Wick take you on the unforgettable day out. Remember, were you one of the kids making gestures out of the coach window?"