The Barn Theatre, Southwick Community Centre
March 5, 6, 7 & 8, 2003
The Accrington Pals
by Peter Whelan
Directed by
Katie Brownings
---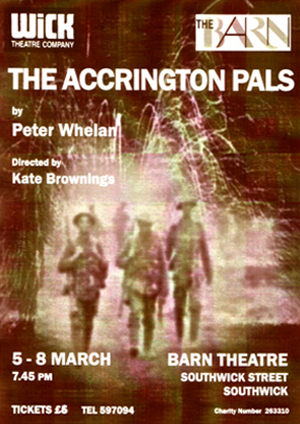 Cast
Lex Hills – May
Ryan Lainchbury – Tom
Mark Best – Ralph
Serena Brand – Eva
Zoë Edden – Sarah
Theresa Furr – Bertha
Kate Hills – Annie
David Bickers – Arthur
Stuart Isaac – Reggie
Simon Birks – CSM Rivers
Production Crew
Assistant to the Director – Kevin Isaac
Stage Manager – David Comber
Lighting Design – Mike Medway
Lighting Technician – Chris Grey
Sound Design & Operation – Simon Snelling
Technical Stage Management – John Garland
Technical Stage Management – Kevin Isaac
Technical Stage Management – Marc Lewis
Set building – David Comber
Set building – David Collis
Set building – Brian Box
Set building – Mike Davy
Set building – Marc Lewis
Set Painting – Sheila Neesham
Set Painting – Frances Thorne
Set Painting – Judith Berrill
Properties – Sue Whittaker
Properties – Margaret Davy
Wardrobe – Cherry Briggs
Wardrobe – Margaret Pierce
Press & Publicity – Rosemary Bouchy
Press & Publicity – Rosemary Brown
Press & Publicity – Judith Berrill
Box Office – Margaret Murrell
Front of House Co-ordinator – Betty Dawes
Programme Note #1: The Accrington Pals
This moving and powerful play takes its title from the seven hundred strong battalion from Accrington Lancs, which marched off optimistically to join Kitchener's New Army and was decimated at the battle of the Somme in 1916.
Glimpses are given of the life at the front but the play's dramatic power lies in the linking of the public event to the private lives of the working class wives, daughters and lovers who were left behind, living on hope and official misinformation about what was actually happening to the 'Pals' in France.
The play explores a whole range of emotions, humorous in parts and extremely poignant in others, and paints a picture of the changes in civilian life during wartime.