The Barn Theatre, Southwick Community Centre
December 7, 8, 9 & 10 1994
Run for your Wife
by Ray Cooney
Directed by
Ralph Dawes
---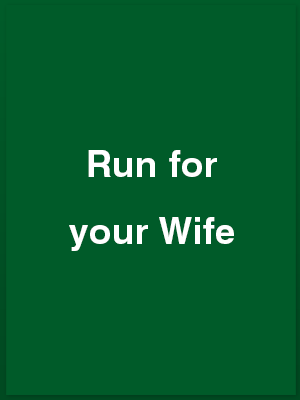 Cast
Rosemary Mose – Mary Smith
Judith Berrill – Barbara Smith
Bob Ryder – John Smith
Charles Porter – Detective Sergeant Troughton
Vic Gough – Stanley Gardner
Andy Chalk – Newspaper Reporter
John Barham – Detective Sergeant Porterhouse
Kevin Isaac – Bobby Franklyn
Production Crew
Assistant to the Director – Andy Chalk
Design – Dave Comber
Stage Manager – Mark Flower
Lighting – Patrick Roberts
Lighting – Frances Thorne
Set Construction – Brian Box
Set Construction – Jeremy Cooke
Set Construction – Michael Davy
Set Construction – Dave Collis
Set Construction – Dave Comber
Set Construction – Ralph Dawes
Set Painter – Frances Thorne
Set Painter – Sheila Neesham
Properties – Sue Whittaker
Properties – Margaret Davy
Wardrobe Supervisor – Margaret Faggetter
Continuity – Betty Dawes
Publicity – Judith Atkinson
Photography – George Laye
Front of House Management – George Illman
Box Office – Anna Barden
Programme Note #1: Run for your Wife
RD wrote: "Run for your Wife has enjoyed many very successful long runs in London, toured extensively and it is easy to understand why. It must be one of the funniest plays that Wick has presented being a cascade of one hopeless situation following another as John and Sally try to extricate themselves from a showdown that becomes increasingly inevitable.
Working on this production has provided both myself and the cast with many hours of enjoyment and hard work. I hope that you will enjoy a relaxing and entertaining evening."
Programme Note #2: Run for your Wife
Ralph Dawes was founder member of the company and has more than 80 acting rôles to his credit – with six productions as a director. His production of The Crucible won the All Sussex Three Act Festival in 1967. Recent acting rôles include Bennett in Travesties and Arthur Wicksteed in Habeas Corpus. He also sings chorus with Southwick Opera and is treasurer of both the Wick Theatre Company and Southwick Opera. In his 'spare time' he designs and constructs scenery with the workshop team.
Rosemary Mose joined Wick in 1984. Her rôles have been varied and numerous. She will be remembered for her portrayal of Mrs Swabb [Habeas Corpus], Childe [The Killing of Sister George], Vera [Stepping Out] and most recently Adelaide [Guys and Dolls].
Judith Berrill has appeared in ten Wick productions since 1989 – a versatile run that has stretched from the Cheshire Cat (in Alice) to Cecily the Stripping Librarian (in Travesties)! In between, Judith has given Barn audiences plenty of lively moments in parts such as Constanze (Amadeus), Fay (A Chorus of Disapproval), Esmerelda (The Royal Pardon) and the title rôle in Hedda Gabler and Olivia in Twelfth Night.
Bob Ryder has produced four very distinctive shows for Wick since 1991 – Habeas Corpus, A Chorus of Disapproval, Hedda Gabler [in his own translation] and Twelfth Night [for which he also composed the music for the songs]. He has acted in several Wick productions, including lead performances in Amadeus [Salieri], The Royal Pardon [Luke] and Travesties [Henry Carr].
Charles Porter first appeared in the Wick's production of My Fair Lady as a chimney sweep – at the age of eleven! His rôles include Shem [Noah], Dennis Wicksteed [Habeas Corpus], Ian Hubbard [A Chorus of Disapproval]. He recently co-directed Wick's award winning production of Travesties.
Vic Gough has acted regularly with Wick as well as performing many baritone rôles for the local operatic companies, most recently in Bill Hikock (Calamity Jane), Baron Von Trapp (The Sound of Music) and John Wellington Wells (The Sorcerer). Straight acting parts at the Barn have included Mr. Rochester (Jane Eyre), Inspector Goole (An Inspector Calls). He won the one-act festival best actor trophy as 'Sailor' Zeale (The Zeale Brothers). Comedy rôles include Sir Percy Shorter (Habeas Corpus) and the mad director, Dafydd (A Chorus of Disapproval) and Feste [Twelfth Night].
Andy Chalk made his straight acting debut in Wick's production of Beyond Reasonable Doubt. More recently he has appeared in Guys & Dolls, The Wizard of Oz (as the Tinman) and Stage Struck. He has also begun to work on play direction, with a studio production of A Glass Menagerie in Wick's annual programme for work by new directors. His most recent part was Sebastian in Twelfth Night.
John Barham is responsible for some of Wick's funniest comedy performances in recent years, including Bernard (Season's Greetings), Orsini-Rosenberg (Amadeus), Jarvis (A Chorus of Disapproval), Scoblowski (Daisy Pulls It Off) and Sir Toby Belch [Twelfth Night].
Kevin Isaac joined Wick in 1991 and has since appeared in six different productions ranging from a Policeman in The Royal Pardon to a Munchkin Farmer in The Wizard of Oz and most recently a failed Stage Manager in Stage Struck. He has also provided the sound effects for two productions and appeared in a number of One-Act evenings.