The Barn Theatre, Southwick Community Centre
September 14, 15, 16 & 17 1994
The Rape of the Belt
by Benn W. Levy
Directed by
Margaret Ockenden
---
1994 BHAC Full Length Drama Competition
– The Gabbus Denney Award for Best Director
– Merit Award : Samir Rahim for his intuitve, creative comedy talent, giving the best comedy performance as Theseus
---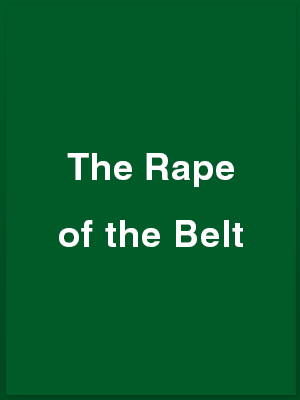 Cast
Rosemary Brown – Hera
Derek Fraser – Zeus
Daphne Thornton – Hippobomene
Samir Rahim – Theseus
Matthew Bartlett – Heracles
Claire Wiggins – Antiope
Jo Chalk – Diasta
Jean Porter – Hippolyte
Rosemary Mose – Thalestris
Janet Comber – Attendant
Jessana Palm – Attendant
Production Crew
Design – Judith Berrill
Design – Dave Comber
Stage Manager – Dave Comber
Lighting – Trevor Langley
Sound – Bob Ryder
Sound – Kevin Isaac
Song Arrangement – Patrick Johnson
Set Supervisor – Dave Comber
Set Construction – Brian Box
Set Construction – Michael Davy
Set Construction – Dave Collis
Set Construction – Dave Comber
Set Construction – Ralph Dawes
Set Painter – Frances Thorne
Set Painter – Sheila Neesham
Properties – Sue Whittaker
Properties – Margaret Davy
Wardrobe – Janet Comber
Wardrobe – Jessana Palm
Wardrobe – Francoise Barham
Continuity – Joan Bearman
Photography – George Laye
Front of House Manager – George Illman
Front of House Manager – June Illman
Box Office – Anna Barden
Programme Note #1: The Rape of the Belt
MO wrote: "Although the play was written over thirty years ago, its ideas and comedy are just as relevant today. The questions it explores are serious – are women able to organise a society without men – how significant are heroes in real life and how does physical attraction between men and women affect out lives? The play treats the subject matter in a light-hearted, amusing manner and has moments of high comedy.
I was especially happy to work with this excellent cast. Rehearsals have been full of enthusiasm, and the support from the technical crew and other company members has been of invaluable help."
Programme Note #2: The Rape of the Belt
Margaret Ockenden has been interested in the theatre since her debut at fourteen as Falstaff in the school play! A long time member of Wick, her most recent rôle was the Wicked Witch of the West in The Wizard of Oz. She has a diploma in teaching drama and has directed Living Together and Jane Eyre as well as One-Act Festival plays.
Rosemary Brown continues a tradition in Greek mythology – her first local rôle was Queen Cassiopeia in Perseus and Andromeda. For Wick she has played the Red Queen in Alice, Grace in Love From Judy and most recently Sister Sarah in Guys and Dolls. Usually seen in musical plays, this is her first part in a straight play.
Derek Fraser is a recent recruit to Wick and has appeared in productions as diverse as See How They Run, Macbeth, The Bacchae, Oliver and Luther in which he took the title part. His favourite rôle was Captain Cat in Dylan Thomas' Under Milk Wood for the Lensbury Players which won the Lewisham Festival. He says singing, dancing and acting beats earning a living in dentistry!
Daphne Thornton joined Wick in 1979, playing Grandmother in The Snow Queen. Since then she has played an assortment of rôles including Mrs Puffin [Goodnight Mrs Puffin] and Sister George [The Killing of Sister George]. She has also enjoyed being accompanist as some of the musical productions such as The Gingerbread Man and Pinocchio.
Samir Rahim made his first appearance with Wick as Antonio in Twelfth Night. He has recently returned from a degree course in theatre studies in the USA where he worked both as an actor [including Iago in Othello] and as the composer and musical director for several college productions – Oedipus Rex; The Caucasian Chalk Circle and Machinal.
Matthew Bartlett made a memorable Wick debut recently as the Scarecrow in The Wizard of Oz followed by Sir Andrew Aguecheek in Twelfth Night. He is planning to start a degree course in drama later this year.
Claire Wiggins first appeared with Wick in the tear-stained title rôle in Jane Eyre. She went on to play a chesty Connie Wickstead [Habeas Corpus] before tugging at the heart-strings again last year as the dying Shelby in Steel Magnolias.
Jo Chalk has been acting with the Wick for more than ten years – though she did begin at an early age! In recent years she has played a number of heroines, including Felicity [Habeas Corpus], Judy [Love from Judy], Teya [Hedda Gabler], Gwendoline [Travesties] and Viola [Twelfth Night].
Jane Porter has acted regularly with Wick since 1988, appearing in a wide range of plays including Stepping Out, Little Women, Amadeus, A Chorus of Disapproval and most recently Stage Struck. She has also choreographed and taken part in several Wick musicals.
Rosemary Mose joined Wick in 1984. Her rôles have been varied and numerous. She will be remembered for her portrayal of Mrs Swabb [Habeas Corpus], Childe [The Killing of Sister George], Vera [Stepping Out] and most recently Adelaide [Guys and Dolls].
---