The Barn Theatre, Southwick Community Centre
October 8, 9, 10, 11 & 12, 1985
Abigail's Party
by Mike Leigh
Directed by
Karen Mulholland
---
1985 BHAC Full Length Drama Competition
– Bea Waters Challenge Cup for Best Overall Production
– Best Actress : Lorraine Hanner
---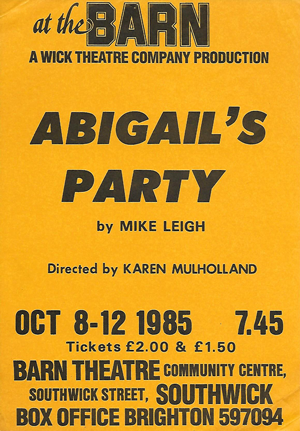 Cast
Lorraine Hanner – Beverly
Alan Gray – Laurence
Suzanne Roberts – Angela
Ian Bishop – Tony
Margaret Ockenden – Sue
Production Crew
Stage Manager – Frances Thorne
Assistant – Sue Whittaker
Assistant – Margaret Davy
Lighting – Frank Hurrell
Sound – Ian Naylor
Set Design & Construction – Ralph Dawes
Continuity – Martin Cramp
Front of House – Mark Flower
Box Office – Jill Redman & the 'At the Barn' joint box office team
Programme Note #1: Abigail's Party
KM wrote: "When I was asked to direct Wick's first play of the season my immediate choice was Abigail's Party. It is a play I have always loved and I saw the opportunity of directing it as a great challenge. I am extremely lucky to have gathered such an experienced cast. Lorraine Hanner and Margaret Ockenden are both long standing members of Wick, we welcome Suzanne Roberts, a new member and I am very grateful to Alan Gray and Ian Bishop, who are both appearing as 'guests' for the Wick.
We have had enormous fun rehearsing this production and developing the characters. For example, one night the cast went to the theatre together, each person remaining in character of the person they are portraying in the play for the whole evening. This proved an hilarious and successful venture. The profiles in this programme were also a successful venture into developing each character!
I must seriously thank the cast and crew for all their hard work and co-operation over the very short five week rehearsal period. There are some mammoth parts to learn in this play, but everyone has pulled out all the stops, resulting in what I hope you will agree is an extremely enjoyable and hilarious evening of entertainment."
Programme Note #2: Abigail's Party
Beverley [Lorraine Hanner] trained as a beautician at Tooting Polytechnic and later went on to become beauty consultant at Boots [Tooting Branch]. Her interest in Drama developed when she was asked to do the make-up for a production of The Mikado, in which Laurence played 'Nanki-Poo': they were married shortly after. Beverley's only claim to fame was a five minute appearance on 'Sale of the Century', when she won £10 and an onyx and gilt coffee table. She is also a keen yoga fanatic and for the past year has been Avon representative for the Walthamstow area [please 'phone Walthamstow 24835 for more details.]
Laurence's [Alan Gray] interest in the theatre was sparked off when he played Juliet in his school production of Shakespeare's Romeo and Juliet at Hadley Grammar School, at the age of thirteen. He has gone on to play a number of leading rôles with the St. Augustus Players, of whom he is a founder member. Next year hi is to try his hand at directing with a production of Agamemnon at Walthamstow Community Centre. A keen golfer and philatelist, Laurence regularly sings with the St. Augustus Church choir.
Being an extreme extrovert, it will come as no surprise that Angela [Suzanne Roberts] takes her own First Aid courses. She says "it really is important that people know how to cope in a crisis, they might, one day, have to save someone's life!" Apart from teaching first aid, Angela's other favourite pastimes include energetic disco dancing and preparing unusual Indian cuisine. She says "it may sound unusual, but there really are some very tasty dishes at hand, I like to try them out on my husband but he doesn't seem to be as keen as me". The last of Angela's many talents is keep-fit, which she pursues with limitless energy.
Tone [Ian Bishop] would have taken part in the school plays but he went to a boys' school and played football instead. He has dabbled in amateur dramatics, playing Richard the Third's horse, [back end] and last year was in the chorus of Aladdin for the Walthamstow Players. He played football for Crystal Palace, but now only plays alternative week-ends, but still likes to keep fit and last year ran in the Walthamstow fun run. He is married with no children and his ambition is to travel to far-away places like Ibiza and Benidorm.
Since playing 'Lysistra' in the end of term production of the Cheltenham Ladies College, Susan [Margaret Ockenden] has enjoyed the thespian arts. While secretary to Giles Mason-Gibbes [Sotherby's] she took part in the Under-Nethercote production of The Decameron [re-written by Diana Forbes-Forbes]. Susan settled for the more orthodox rôle of Maria von Trapp in The Sound of Music with the Little Saddlescombe Players, following the birth of her daughter 'Abigail'.