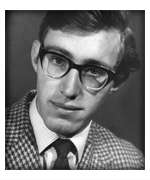 Sweet, Nicholas
Born: 29 . 01 . 1938
First Appearance: January 1959
Curtain Call: 07 . 10 . 2013
Nick joined Young Wick Players in 1958, landing his first rôle in 1959.
Educated at Hurstpierpoint College and after University becoming a Civil Engineer with Southwick UDC. Nick left for South Africa in 1958 and had a successful engineering career.
He married Natalie and together they raised three boys. Sadly his last few years were marred by heart problems, complications from which led to his death.
---
01/1959 – Captain Carvallo – Professor Winkie
04/1959 – Sailor, Beware! – The Rev. Oliver Purefoy
11/1959 – The Christmas Story – Melchior
11/1960 – Don't Listen Ladies – A Porter
10/1961 – Figure of Fun – Jacques Lambert
01/1963 – In F'ra Dig – Ensemble piece
---