In Memory of
Vic Gough
04 . 07 . 1944 – 10 . 09 . 1996
---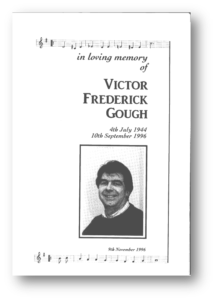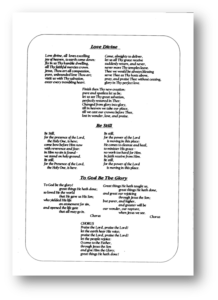 Shoreham Herald – September 20th 1996
'Tributes flow in to actor and singer Vic, 52 – Death of a loved local entertainer '
TRIBUTES have poured in following the sudden death of Worthing Light Opera Company's leading light. Vic Gough.
Mr. Gough, 52, was a well-known actor and singer in Worthing, Southwick and Brighton. He was due to play one of the leading rôles, The Wazir, in the company's forthcoming production of Kismet at the Pavilion Theatre Worthing, next week. The show will be dedicated to his memory instead.
Mr. Gough worked with various theatrical and operatic companies since 1972, starting at Lewes Road Congregational Church Operatic and Drama Society, where he was chorus member in Princess Ida. Following this he joined The Crescent Operatic in Brighton, Wick Theatre Company and Southwick Opera at the Barn, Southwick and then in 1992 joined Worthing Light Opera Company.
He was equally at home performing in musical. comedy and straight plays, winning best actor for hi portrayal of Sailor Zeale in The Zeale Brothers, a one-act festival play in 1988. Since then he had performed more than 28 principal rôles with the various companies he was involved with.
Among his hobbies, he was a member of East Brighton Golf Club and a league snooker player with Champion House, Southwick. His partner, Julie Le Manquais, also a member of Worthing Light Opera, said: "Vic was one of life's great characters and will be missed by so many, because he touched so many people's lives. He loved acting and singing. His death has been such a shock."
Mr. Gough leaves two daughters, Abby and Briony.
His funeral has taken place, but a memorial service will be held at a later date.

---