Southwick & Fishersgate Community Association – Twelfth Festival of Arts & Crafts
The Barn Theatre, Southwick Community Centre
April 23 & 24 1965
---
| Archive |
---
Adjudicator: Miss Olive Von der Heyde *
Winning Group: Wick Theatre Company
---
One-Act Drama Festival
Competitors – in order of appearance:
---
1
The Centre Players
There's Always Molly
by Neil McKellar
Produced by Unknown
2
Horsham Dramatic Society
Temptation Sword or Virtue Rewarded
by Winifred Phelps
Produced by Unknown
3
The Phoenix Players
The Faithful Widow of Ephesus
by Thomas Cruden
Produced by Betty Cowan
4
The Southwick Players
The Devil in the Lottery
by Mark Howard
Produced by Unknown
5
The Withdean Players
The Ass and the Philosophers
by John Knowles
Produced by Unknown
6
Wick Theatre Company
The Queen and the Welshman
by Rosemary Anne Sisson
Produced by Bess Blagden
Cast
John Perrett
David Goodger
Ralph Dawes
Jean Porter – Queen Katherine
Ian Elliott – Sir Own Tudor
Peter Elson
Fay Sturt
Ray Hopper
Bob del Quiaro – Duke of Gloucester
* 2016 note: Springboard Festival – Brighton & Hove Performing Arts Festival – was formerly known as the Brighton Competitive Musical Festival and started in 1925 under the auspices of Brighton Borough Council. Competitions were held in the Pavilion Estate, including the Corn Exchange, Royal Pavilion, Dome and Pavilion Theatre.
The development of the Festival was largely the work of Olive Von der Heyde who remained involved from the beginning until her death in 1997.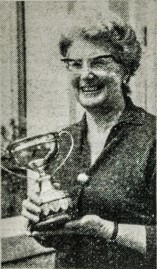 The Phoenix Players' production on Saturday evening was described by the adjudicator as "something different, with a lovely set and beautiful grouping and colour." The play, by Tomas Cruden, was produced by Betty Cowan.
Horsham Dramatic Society presented a Victorian melodrama by Winifred Phelps, Temptation Sordid or Virtue Rewarded. "The scenery was good and the play opened well, the piano giving it an excellent start, but the whole needed more go," the adjudicator remarked.
Jack Lomath, who played Hippocrates in Withdean Players' production of The Ass and the Philosophers, by Gwenyth Jones, was praised by Miss Von der Heyde for his natural acting ability.
Other plays in the Festival were The Devil in the Lottery a light comedy by Mark Howard, presented by Southwick Players and The Centre Players' presentation of There's Always Molly by Neil McKellar.
---