The Barn Theatre, Southwick Community Centre
December 12, 13, 14, 15 & 16 1978
Hobson's Choice
by Harold Brighouse
Directed by
Audrey Laye
---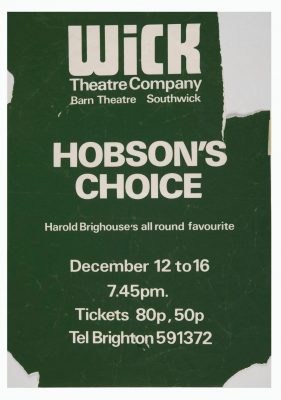 Cast
Sally Bacon – Alice Hobson
Frances Moulton – Maggie Hobson
Sharon Tree – Vicky Hobson
Peter Joyce – Albert Prosser
Brian Moulton – Henry Horatio Hobson
Jean Porter – Mrs. Hepworth
Alan Upton – Timothy Wadlow [Tubby]
Bill Mack – William Mossop
Douglas Tucker – Jim Heeler
Joy Talmage – Ada Figgins
Denis Picott – Fred Beenstock
John King – Dr MacFarlane
Production Crew
Stage Manager – George Laye
Assistant – Margaret Davy
Assistant – Susan Whittaker
Assistant – Frances Thorne
Assistant – Amanda Dawes
Assistant – Jean Porter
Lighting – Andrew Theaker
Set Design – George Laye
Front of House – Antony Muzzall
Front of House – Betty Dawes
Box Office – Sandie Joyce
Programme Design – Antony Muzzall
Programme Note #1: Hobson's Choice
AL wrote: " I am delighted to have been given the opportunity to direct Hobson's Choice – a long time favourite of mine. It is written by Harold Brighouse one of three Lancashire dramatists who formed the 'Manchester School' and were responsible for the realistic plays of life in Lancashire at the turn of the century and into the early part of the 20th century.
The play was first presented in America – were the British theatre goers of the early 1900s not prepared to accept the radical, contemporary theatre as presented by Brighouse and his colleagues? However, it did arrive in Britain in 1916 and had its first premiere at the Apollo Theatre, London and since then it has been seen the length and breadth of the country. It achieved success as a memorable film, starring the late Charles Laughton and Sir John Mills. It has been presented by practically every repertory theatre in the country, it has been adapted for radio and more recently it has achieved its highest accolade by being presented at the National Theatre.
As a 'lassie from Lancashire' nostalgia could be part of my feelings for this play, but as a director I have no doubt that it is one of the 'good, old plays' which has given enjoyment to all who have seen it and we hope that you, too, will derive the same pleasure from our efforts this evening."
Programme Note #2: Hobson's Choice
Brian and Frances Moulton have appeared on many occasions and both are back with no respite, from our last play Butterflies Are Free, Frances was on stage and Brian directed.
Bill Mack was in Audrey's 1975 When We Are Married and produced the opening play of last season, Intent to Murder [web ed; Wick's seasons start in September]
Sharon Tree is a member of Wick Youth and was the delightful Spirit of the Lake in last Christmas' Where the Rainbow Ends, this is her first part in a major straight play.
Joy Talmage has been with Wick for 8 years, but activities in her home area of Lancing have restricted her appearances, her last was some five years ago!
Sally Bacon is also from Lancing and her stay with Wick goes back ten years to the Young Wick. Sally was in When We Are Married and Rainbow.
Dennis Picott has been with Wick for two years, after moving from South London, he has appeared as a brother in Barrets and as one of the Slackers in Rainbow.
Dennis shared this rôle with Peter Joyce. Peter's last play was Butterflies some ten weeks ago.
John King, Jean Porter, Douglas Tucker and Alan Upton complete the cast with characters that give Hobson's Choice perfect rounding.
All these members have held the stage at the Barn in leading rôles and it is this willingness to switch parts that makes every Wick production the joy it is.
The company take this opportunity to thank you, the patrons for your attendance throughout the year and wish you a very happy, merry Christmas.