The Barn Theatre, Southwick Community Centre
May 24, 25, 26, 27 & 28 1977
The Barretts of Wimpole Street
by Rudolf Besier
Directed by
Brian Moulton
---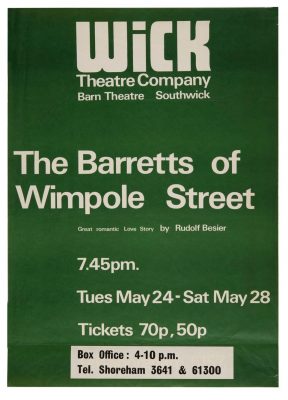 Cast
John King – Dr. Chambers
Jane Vrettos – Wilson
Brian Moulton – Barretts
Frances Moulton – Miss Elizabeth
Elizabeth Prince – Miss Henrietta
Rosemary Boulton – Miss Arabel
Denis Picott – Mr Octavius
Antony Muzzall – Mr Septimus
Simon Gray – Mr Alfred
Bruce Wilson – Mr Henry
Peter Joyce – Mr George
William Mack – Mr Edward
Jeanette Goode – Bella Hedley
Roger Job – Henry Bevan
Barrie Bowen – Mr Robert Browning
Ralph Dawes – Dr Ford-Waterlow
Tim Cara – Captain W. Surtees Cook
Peter O'Byrne – Flush
Production Crew
Stage Manager – Paul Vrettos
Assistant Stage Manager – Ethel Barrs
Properties – Frances Thorne
Set Construction – Paul Vrettos
Set Construction – George Laye
Set Construction – William Mack
Wardrobe Mistress – Hilary Woodward
Lighting – Frank Hurrell
Lighting – Andrew Theaker
Programme Note #1: Barretts of Wimpole Street
BM wrote: "Contrary to popular belief The Barretts is not a story of young lovers. When Elizabeth met Robert Browning for the first time she was 39 years old and he was 33. It is a wonderful story of hope and mature love against the background of a stern Victorian household. To say more would perhaps spoil your enjoyment of the production but we hope you will find that we have done justice to the story."
And the programme note continued with:
January 10, 1845. Robert to Elizabeth:
"I love your verses with all my heart, dear Miss Barrett … into me has it gone, and part of me has become, this great living poetry of yours … the fresh strange music, the affluent language, the exquisite pathos and true new brave thought … I do as I say love these books with all my heart, and I love you too."
1840
"The heart which, like a staff, was one,
For mine to lean and rest upon,
The strongest on the longest day
With steadfast love, is caught away,
And yet my days go on, go on."
Elizabeth on the death of her brother Edward.
Programme Note #2: Barretts of Wimpole Street
New to the Barn Stage
Jeanette Goode. Past experience with the Ballet Rambert as a professional dancer. Has worked abroad for a number of years. Lives in Hove.
Rosemary Boulton. Recently moved into Southwick. Past member of the Renegades Theatre Company, Ilford and the East Essex Players.
Elizabeth Prince. Lives in Worthing and has worked with the Brighton Little Theatre.
Dennis Picott. A Londoner now living in Shoreham. Has had experience with the South London Theatre Centre.
Programme Note #3: Barretts of Wimpole Street
Preparations for Wick Theatre Company's last play of the season could hardly have gone more smoothly, apart from one small problem which has 'dogged' the group. You see, The Barretts of Wimpole Street by Rudolf Besier features a King Charles spaniel belonging to heroine Elizabeth Barrett Browning. Unfortunately, the first dog the company auditioned for the part of 'Flush' did not take to his mistress, played by Frances Moulton. 'He just kept on growling at me so we had to find another dog,' said Frances. 'It was a bit of a come-down because dogs normally get on well with me.'
But like the play itself, the dog trouble has reached a happy ending. Frances and her new pet 'Peter' – owned by a Hove couple – are now rehearsing happily together and rarin' to go when the production opens at the Barn theatre, Southwick, on Tuesday.
Directed by Frances's husband Brian, the play tells how Elizabeth Barrett and Robert Browning fall in love with each other's poetry and elope. Wick Treasurer Barry Bowen returns after two years behind the scenes to play Robert Browning and Bill Mack portrays Mr Barrett. Also in the cast are four new members – Rosemary Boulton, Elizabeth Prince, Jeanette Goode and Dennis Picott – and one of Wick's junior members, Tony Muzzall.