The Barn Theatre, Southwick Community Centre
February 11, 12, 13, 14 & 15 1975
The Secretary Bird
by William Douglas Home
Directed by
Betty Dawes
---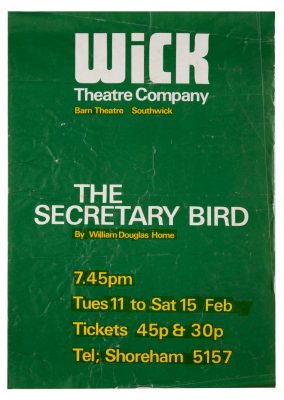 Cast
Barrie Bowen – Hugh Walford
Miranda Bowen – Liz Walford
Sheila Wright – Mrs. Gray
Jane Durance – Molly Forsyth
Roger Stott – John Brownlow
Production Crew
Producer – Ann Baker
Set Design – Vincent Joyce
Stage Manager – Paul Vrettos
Assistant Stage Manager – Ann Baker
Assistant Stage Manager – Ethel Barrs
Set Construction – Paul Vrettos
Costumes – Miranda Bowen
Lighting Plot – Frank Hurrell
Sound – Andrew Theaker
Properties – Margaret Davy
Properties – Frances Thorne
Programme Note #1: The Secretary Bird
BD wrote: "The Secretary Bird had an enormous success in the West End and is one of the best examples of modern British comedy. Hugh's battle to keep his wife, fought out in a deceptively urbane and good humoured atmosphere, is in fact a skilful and ruthless campaign planned to the last detail. He is the 'puppet-master' and all the other characters dance at his bidding"
Programme Note #2: The Secretary Bird
We are still a little breathless after our multiple success in the Brighton and District Drama Festival. Anna Welch's production won all the major awards: Best Play, Best Actress [Monica Joyce] and Best Actor [Douglas Tucker].
We must be forgiven for blowing our own trumpet just a little – look at those cups in the foyer [Henley & Southwick Drama Festivals as well.]
Tonight we offer you something very different – the polish and comic unpredictability of William Douglas Home's The Secretary Bird.
Have a good time and bear in mind that we still have two plays in hand: Nikki le Roy's Othello and Monica Joyce's Festival production of Antigone.
Programme Note #3: The Secretary Bird
Settings note – Vincent Joyce
The library includes Vincent's plans for the settings so admired by the critic. Vincent wrote to Paul Vrettos and the workshop crew.
"First look at the sketches, then read on: Apart from the garden there are 2 units to build and one plain black backdrop.
Unit 1 is the chimney breast with oak beam mantel piece, recessed fire place, hearth, hearth seat [like in my brother's house!] and some wooden plain shelves. It should all look like brick with rough plaster finish painted white. [i.e. country style but modern decor.]
Unit 2 is bay window recess, with French doors, raised floor [41/2″ or 6″] oak beam.
Since there is nothing else except blacks I want the finish to be good. [It will be all there is to look at and must stand scrutiny. Attention to detail is a MUST. I haven't converted these sketches to working plans, but how about starting on the Unit 1 which is not a precision job in terms of fitting tight into a space. [See back of break-down elevation sketch for details.] "