The Barn Theatre, Southwick Community Centre
October 1, 2, 3, 4 & 5, 1974
Roots
by Arnold Wesker
Directed by
George Porter
---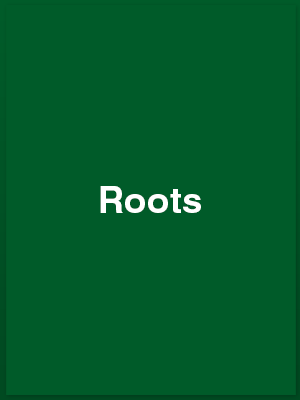 Cast
Valerie Bingham – Jenny Beales
Bill Mack – Jimmy Beales
Suzanne Brocken – Beatie Bryant
George Porter – Stan Mann
Audrey Laye – Mrs. Bryant
Neil Shepherd – Mr.Bryant
Andrew Theaker – Mr. Healey
Neil McKellar – Frankie Bryant
Monica Joyce – Pearl Bryant
Production Crew
Stage Manager – George Laye
Assistant Stage Manager – Paul Vrettos
Assistant Stage Manager – Sally Browne
Assistant Stage Manager – Ethel Barrs
Set Design – George Laye
Set Construction – Bill Mack
Costumes – Frances Thorne
Lighting – Frank Hurrell
Sound – Roger Stott
Properties – Margaret Davy
Properties – Elizabeth Wrighton
Programme Note #1: Roots
GP wrote "Roots is the only play I know which is written in a Norfolk idiom and attempts to give a true picture of life in an East Anglia Village. The buses to Diss and Norwich set up the rhythm of the day and the extraordinary events are the passing of the ambulance or the greengrocer's van.
I suppose you could say I have a vested interest in the play as a Norfolk man! And I'm not ashamed to say that I admire it as good drama and for its genuine flavour.
The Bryants are real people and although one can criticise them for their nervousness one must admire their capacity for stoical survival and making do. But although so little happens physically, the blossoming of Beatie Bryant as a thinking person is full of colour and drama.
This is a play about communication between people and awareness of life and purpose I hope my clever cast will communicate with you in telling fashion – especially our lovely Beatie whose first leading rôle this will be."
Programme Note #2: Roots
"Last season ended with our production of White Liars winning the Henley Festival outright. Among the fourteen contenders was the all England winner of the 1973/4 season.
Our next production with be The Lark directed by Anna Welch on December 7 and 10 -14. This Christmas production was to have been Cabaret produced by Richard Porter but now that Richard has gained a place at the Bristol Old Vic on the Trainee Producers' course we have postponed Cabaret indefinitely.
The Lark is an exciting and interesting play, telling the story of Joan of Arc in a most original and ingenious way. It is an ideal production for the Christmas season and we would advice you to book early.
In the New Year our first production will be The Secretary Bird directed by Betty Dawes. Finally Nikki le Roy will direct Othello – our first venture into Shakespeare in 26 seasons.
We have produced a pamphlet which gives an outline of our season. If you do not already have a copy, please ask for one."