The Barn Theatre, Southwick Community Centre
February 12, 13, 14, 15 & 16 1974
The Night of the Iguana
by Tennessee Williams
Directed by
George Porter
---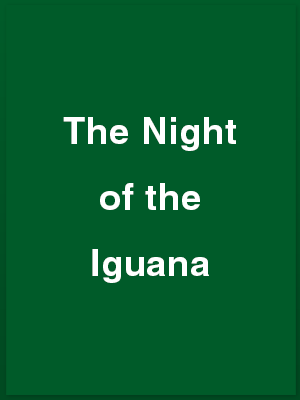 Cast
Valerie Bingham – Maxine Faulk
Colin Hunt – Pedro
Mike King – Pancho
Roger Stott – Reverend Shannon
Barrie Bowen – Hank
Keith Denyer – Herr Fahrenkopf
Ulla Sharman – Frau Fahrenkopf
Stephen Hayler – Wolfgang
Sheila Deasey – Hilda
Frances Moulton – Judith Fellowes
Jean Porter – Hannah Jelkes
Helena Drzyzga – Charlotte Goodall
Neil McKellar – Jonathan Coffin [Nonno]
Neil Shepherd – Jake Latta
Production Crew
Stage Manager – Bill Mack
Production Secretary – Monica Joyce
Set Designer – Vincent Joyce
Set Construction – Bill Mack
Set Construction – Tony Morrison
Set Construction – Paul Vrettos
Assistant Stage Manager – Ethel Barrs
Assistant Stage Manager – Sally Browne
Lighting – Frank Hurrell
Sound – Frank Hurrell
Sound – Vincent Joyce
Wardrobe – Mary Payne
Properties – Margaret Davy
Front of House Manager – George Penney
Display Photographs – John Elliott
Programme Note #1: Night of the Iguana
GP wrote: "At last the Iguana, a play on our list for production for several years. In rehearsal we have studied the play in detail and have wondered why we waited so long. It is a fascinating drama of contrasting characters requiring acting of strength and sensitivity.
The Reverend Lawrence T. Shannon [defrocked] says he is 'at the end of his rope' – like the captive iguana under the Mexican verandah. There are many symbols in this play. Is the captive iguana a symbol of man's spirit [or Shannon's] struggling to be free of guilt for lost ideals? Are Maxine and Hannah symbols for physical and spiritual love? Will Shannon, at the end of his rope, always opt for second best? Does Nonno's poem explain Hannah or the play? I hope you will find your answers as the story unfolds."
Programme Note #2: Night of the Iguana
"With Night of the Iguana, we reach the 'strong meat' of our season's menu. We hope you will find it as powerful and satisfying in performance as we have found it in rehearsal. Now there is the dessert course to look forward to. Here we can promise you a 'Bombe Surprise' served with the most fantastic petit fours you have ever seen and washed down with the very best champagne. Nikki Le Roy's planned production of An Italian Straw Hat seems certain to bring our 25th Season to a triumphantly outrageous conclusion!
So far the season has been a most encouraging one. We have added a large number of new acting members [the current production includes five new names] and we are now in the middle of a weekly drama training course which promises to do much for the quality of our future productions. Our plans for next season are already underway. We are grateful for your continued support and we promise to offer the same wide range of drama as before.
Our Team which won the Radio Brighton Trophy last year went on to win the Southwick Community Association Top Team award last month after a nail-biting final with a formidable Women's Institute team. Congratulations!
Congratulations too, to Barrie Bowen and the cast, producer and backstage team of The Amorous Prawn who carried off three awards [including best actor] in the Brighton Drama Festival. Now we look forward to the Southwick Festival for which Richard Porter is producing White Liars."