The Barn Theatre, Southwick Community Centre
November 30 – December 1, 2, 3 & 4 1971
My Three Angels
by Sam Spewack & Bella Spewack
Directed by
Audrey Laye
---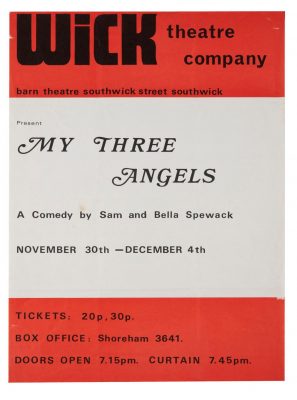 Cast
Susan Hollis – Native Girl
Betty Dawes – Emilie Dulay
Douglas Tucker – Felix Dulay
Ann Baker – Marie Louise Dulay
Valerie Burt – Madame Parole
John Davidson – Alfred [4707]
Ralph Dawes – Jules [6817]
Jack Bingham – Joseph [3011]
Barrie Bowen – Gaston Lemare
Neil Shepherd – Paul Gassogon
David Wiltshire – Sub-Lieut. Espoir
Production Crew
Stage Director – George Laye
Production Secretary – David Wiltshire
Assist Stage Manager – Margaret Ockenden
Assist Stage Managers – Ethel Barrs
Lighting – Frank Hurrell
Costumes – Pat Moss
Wardrobe – Carol Brand
Wardrobe – Pat Mendum
Properties – Margaret Davy
Properties – Frances Thorne
Hair Styles – Miranda Bowen
Settings – George Laye
Front of House Manager – Paul Carpenter
Photography – John Elliott
Programme Note #1: My Three Angels
AL wrote "The penal settlement in Cayeene in French Guiana was notorious throughout the world. Its convicts lived like animals and died in hundreds from harsh treatment or disease. Escape was frequent, but rarely successful. The jungle and the sea were implacable jailers.
This is the setting for the play My Three Angels, but what a different story unfolds. In this intriguing comedy, adapted by Sam and Bella Spewack from Cuisines des Anges by Albert Husson, there are all the ingredients of a fairy tale – not one, but three 'Fairy Godmothers' outwitting and finally overcoming the 'Demon King'. Whilst he does not vanish in the usual puff of smoke he is neatly disposed of and relief abounds for all who have been subjected to his villainous ways – good triumphs over evil yet again!
Almost a Pantomime? What better for this time of the year, as we approach Christmas – the season of goodwill. We think this play is delightful to look at, enjoyable to listen to and real family entertainment. We hope you find it so."
Programme Note #2: My Three Angels
Many of you will have seen our production of A View From a Bridge which was well liked by our audiences and rated one of our better efforts. You will also have read our programme notes. These jottings carry on the same theme – our 21 years as a dramatic society
Our formative years, 1050 to 1955, gave members a valuable experience in a wide variety of plays of the lighter type culminating in December 1955 with our president Mrs. Penney's own play A Christmas Story, in which many local clergy and church members took part. This was the first of three presentations of this play, the last being in 1965 when it was dressed in the Byzantine style.
1956 saw an advance into the field of more demanding drama, even classics, where experience in acting and production began to pay off. Mush of this was due to the skills of members willing to tackle the difficult parts demanded by Pygmalion [1956] The Importance of Being Ernest [1957] Captain Carvallo and The Heiress [1959] and Don't Listen Ladies [1960]. The settings from this time onwards began to show considerable improvement and we have John Perrett to thank for the standard created with that delightful cottage in Captain Carvallo.
Though we have so far only mentioned our early ventures into the classics where Pat Johnson and Jean Porter made their mark with us, it should not be assumed that we neglected the lighter side. Ian and Betty Elliott, Ralph and Betty Dawes, Brian and Frances Moulton, all excelled in modern entertainment like – The Happiest Days of your Life [1957], Life with Father [1958] Sailor Beware and Sleeping Partner [1960] all of which had great box office appeal.
Two very talented youngsters, whilst still at school made their debut in 1957 – Clodagh O'Farrell and Ray Hopper in The Happiest Days of Your Life – and their impact on the Company later on was very strong as many of you will know. Another tall young man arrived with us in 1958 – Barrie Bowen – but more of that later and what happened to him in Sailor Beware.
Douglas Tucker who plays Felix in tonight's play is a bank manager by profession. He has given Wick the benefit of his wide experience in organisation and fund raising over the past two years and has also found time to turn in memorable performances as Folliot in Becket and Colt in Hotel Paradiso.
Ann Baker is taking her first part in a major Wick production. She joined us from the Ham Players of Shoreham and made her first and notable appearance on the Barn Stage as one of the lesbian girls in Richard Porter's production of Trevor [Little Boxes] back in July. [see 1971 in 'and there was more in the 70s' – webed]