The Barn Theatre, Southwick Community Centre
November 25, 26, 27, 28 & 29 1969
Wait Until Dark
by Frederick Knott
Directed by
Ralph Dawes
---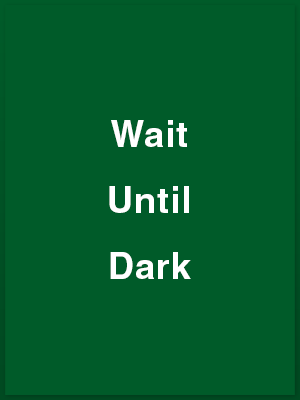 Cast
Neil Shepherd – Mike
Brian Moulton – Croker
Anthony Deasey – Roat
Sue Brown – Susy Henderson
Barrie Bowen – Sam Henderson
Barbara Moulton – Gloria
Jack Bingham – Policeman
Ralph Dawes – Policeman
Production Crew
Set Design – Teddy Morison
Stage Manager – Frances Moulton
Assistant Stage Manager – Stephen Moulton
Stage Lighting – Frank Hurrell
Stage Lighting – Ken Parsons
Effects – Terry Mase
Effects – Terry Gibbs
Properties – Frances Thorne
Properties – Margaret Perrett
Decor – Elizabeth Penney
Wardrobe – Morfydd Bowen
Wardrobe – Carol Brand
Display Photographs – Ian Leavey
Front of House Manager – George Porter
Programme Note: Wait Until Dark
Written by Barrie Bowen:
"A twenty-first anniversary represents a significant milestone. The Wick is working hard on the plays to be presented to mark this anniversary year. We have progressed over these years, but cannot deny it is increasingly difficult to operate with the required efficiency. For this reason we have two other milestones we must reach this year.
Firstly, an increase of experienced actors, youth to train, and those interested in performing behind the scenes – often more 'interesting'.
Secondly, a permanent home theatre workshop is necessary to develop our productions to even higher standards. This costs money, and although our reserves have increased through jumble sales and lotteries they are still insufficient, as you will have seen in the foyer tonight.
I believe we must play our part in providing live theatre in Southwick. I hope you will not think it impertinent to ask for your help in this. However small, it will help to maintain Southwick Theatre, of which you and Wick are essential ingredients."