The Barn Theatre, Southwick Community Centre
December 12, 13 & 14 1963
Noc-Turne!
Material by:
David Climie. H. Pinter. Peter Myers. Alan Melville. Alec Grahame. John Pritchett. John Mansfield. Michael Flanders. Donald Swan. Ronald Cass. Charles Zwar. Ian & Betty Elliott. N.F. Simpson. Arthur MacRae. Richard Addinsall. K.L. Williams. Maureen Payne.
Directed by
Ian Elliott
---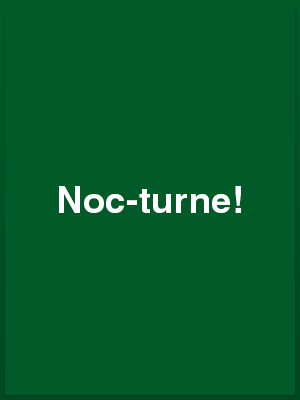 Part 1
1. Knocking
2. Watch Your Language
3. Progress
4. Soft Shoe Shuffle
5. Bessie Plenderleith
6. The Sun is Burning
7. The Applicant
8. Mr. Henderson
9. Surly Girls [script in archive]
Interval
Part 2
10. Not of Two
11. Black & White Widow
12. Last of the Line [script in archive]
13. Peter Patter
14. Trouble in the Works [script in archive]
15. Self Portrait
16. Last to Go [script in archive]
17. Jewel Song
18. Gladly Otherwise [script in archive]
19. Sustained Objection
20. Modern Trends
21. Common Talk
22. Turning
Cast
Phyll Beard [with kind permission of The Southwick Players]
Production Crew
Stage Manager – Barrie Bowen
ASM – Clodagh O'Farrell
ASM – Elizabeth Courtney-King
Lighting – Frank Hurrell
Wardrobe – Morfydd Bowen
Wardrobe – Frances Thorne
Wardrobe – Elizabeth Penney
Wardrobe – Margaret Perrett
Wardrobe – Susan Hayter
Stage Staff – Terry Mase
Stage Staff – Paul Carpenter
Effects – Graham Snow
Musical Director – John Mansfield
Drums – Oliver Goldsmith
Front of House Manager – George Penney
Programme Note: Noc-Turne!
IE wrote: "Ladies & Gentlemen, I am pleased to welcome you to our second full length Revue. For me life in all its facets is immensely entertaining and I hope you will find our enlargement and interpretation of it underlines this attitude. In this context, however, I should mention that we are politically and religiously uncommitted!!
I should like personally to wish you all a Happy Christmas and only GOOD things from the adverts for 1964."
[the programme carried adverts from Andrew of London: 35 Southwick Square; Reeves- footwear: 19 Southwick Square; Iris White – Antiques: 88 Gloucester Road Brighton; F.H.Barker – Estate Agents: 44 Southwick Square; Famel Syrup; The Metal Box Company: Portslade; Carpenters – Butchers 71 Boundary Rd Hove]
A ticket to this Revue cost 3/-