Finally! The Wick Theatre Company emerges. This is the first production under their new name.
The programme advertised both, 'The Young Wick Players' and the 'Wick Theatre Company' on its cover.
---
The Barn Theatre, Southwick Community Centre
October 31 November 1, 2 & 3 1962
Watch It, Sailor!
by Philip King & Falkland Cary
Directed by
Frances Moulton
---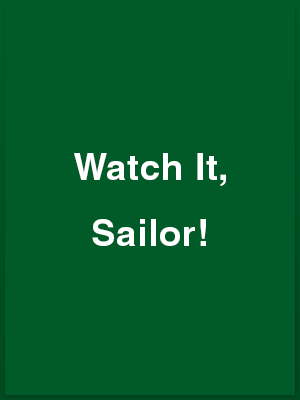 Cast
Elizabeth Courtney-King – Shirley Hornett
Barrie Bowen – Albert Tufnell A.B.
Clodagh O'Farrell – Daphne Pink
Raymond Hopper – Carnoustie Bligh A.B.
Ralph Dawes – Henry Hornet
Betty Elliott – Edie Hornett
Betty Dawes – Emma Hornett
Mary Gedge – Mrs. Lack
Ross Workman – Lt. Commander Hardcastle R.N.
Production Crew
Stage Manager – Brian Moulton
ASM – Trevor Burchell
Lighting – Frank Hurrell
Effects – Ian Elliott
Properties – Roger Nichols
Properties – Maureen Payne
Set Design & Construction – Barrie Bowen
Set Design & Construction – Harry Chinchen
Front of House Manager – George Penney
Foyer Decor – Elizabeth Penney
Programme Note: Watch It, Sailor!
FM wrote: "It is with much pleasure that we are at last able to present for your entertainment this comedy – the sequel to our very successful production of Sailor Beware!
We are lucky to have, with one exception, our original cast, and all of the members of the Wick Theatre Company for many years."