The Barn Theatre, Southwick Community Centre.
February 9, 10 & 11, 1961.
---
As Long As They're Happy
by Vernon Sylvaine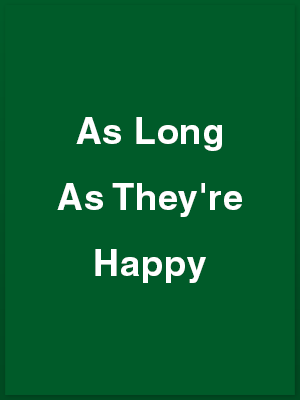 Directed by
Frances Moulton
Cast
Sheelagh O'Farrell – Gwendoline
Beverley Sturmey – Linda
Clodagh O'Farrell – Patricia
Betty Elliott – Stella Bentley
Brian Moulton – John Bentley
Adrian Hedges – Bobby Denver
John Robinson – Hermann Schneider
Malcolm Guy – Michael Kenley
Raymond Hopper – Peter Pember
Mary Gedge – Pearl
Priscilla Freeman – Corinne
Ross Workman – Barnaby
Henrietta of Petworth – Mr. Hennington
Production Crew
Stage Manager – Ian Elliott
ASM – Mary Chinchen
Sound Effects – Ralph Dawes
Lighting – Frank Hurrell
Properties – Valerie Collard
Properties – Maureen Hammonds
Wardrobe – Bess Blagden
Set Design – Barrie Bowen
Front of House Manager – George Penney
Programme Note:
FM wrote in the 6d priced Programme:
"I am very happy to have in this production three newcomers to the amateur stage: Beverley Sturmer, Priscilla Freeman and John Robinson. I'm sure they will have a successful debut in their important parts. Sheelagh O'Farrell who has had a great success in recent Festival plays is playing her first major rôle in a Three Act Play.
I hope you will enjoy this very lively comedy and be gratified to know that the Young Wick is maintaining its standards with an influx of talented people."
---