The Barn Theatre, Southwick Community Centre
June 26, 27, 28, & 29 2019
Neighbourhood Watch
by Alan Ayckbourn
Directed by
John Garland
---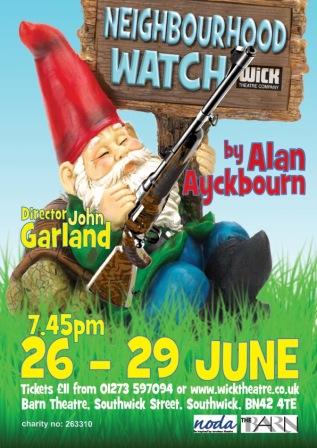 Cast
Susanne Crosby – Hilda Massie
Julian Batstone – Martin Massie
Derek Fraser – Rod Trusser
Barbara Isaacs – Dorothy Doggett
Ian Mackenzie – Gareth Janner
Emily Dennett – Amy Janner
Andrea Jones – Magda Bradley
Guy Steddon – Luther Bradley
Production Crew
Stage Manager – David Comber
Deputy Stage Manager – Dan Dryer
Lighting Design – Martin Oakley
Lighting Operation – John Garland
Sound Design – Bob Ryder
Sound Operation – Brian Jones
Wardrobe – Maggi Pierce
Wardrobe – Cherry Fraser
Properties – Di Tidzer
Properties – Doffey Reid
Set Construction – Dave Comber
Set Construction – Nigel Goldfinch
Set Construction – Carl Gray
Set Construction – Mike King
Set Construction – Sue Netley
Set Construction – Gary Walker
Poster and Flyer Design – Judith Berrill
Main Photography – Gary Walker
Additional Photography – Susanne Crosby
Promotional Film – Phil Nair-Brown

Publicity – Rosemary Bouchy
Publicity – Susanne Crosby
Publicity – Peter Joyce
Programme – Judith Berrill and Susanne Crosby
Programme Note #1: Neighbourhood Watch

JG writes: "Neighbourhood Watch" was Ayckbourn's 75th play, written in 2010 as a response to David Cameron's vision of a 'Big Society'. I was looking for a comedy and, by coincidence, it was 2016 and Cameron had just finished his term of office having misjudged how that society might use their vote.
Ayckbourn describes it as "a satire, but it's quite dark". Like most of his plays, I think it is genuinely thought-provoking and I was principally struck by how, without properly informed leadership, those with good intentions can lead us on a path of potential destruction. As Chairman of the Wick Theatre Company, I will be examining the work of our sub-committees in much greater detail!
Thanks of course go to all my cast, backstage staff, workshop team, technical support, property and costume advisors, publicity team and those who have been around as a 'listening ear' when I've needed them.
Rehearsals have been really enjoyable due to a lot of hard work by all those involved and I really hope you enjoy the result.
Note #2: Neighbourhood Watch

Sir Alan Ayckbourn must be one of the most prolific playwrights of modern times – his website currently list 83 full-length plays. He has had a long association with Scarborough and his first published play, "The Square Cat", was performed there in 1959. He became Artistic Director of the Stephen Joseph Theatre in 1972 and remained in that post until 2009, having suffered a stroke in 2006. He was knighted for services to theatre in 1997.
Almost every play he has written has premiered in Scarborough, mostly in the round, and more than half have transferred to London and many to Broadway – his first West End 'hit' was "Relatively Speaking" in 1967. Other major successes include "How the Other Half Loves", "Absurd Person Singular", "Bedroom Farce", "A Chorus of Disapproval", "The Norman Conquests" and "Absent Friends".
In 1974 he set the record for the most plays being performed simultaneously in the West End.