The Barn Theatre, Southwick Community Centre
December 12, 13, 14 & 15, 2018
Thérèse Raquin
adapted from the novel by Emile Zola by Leslie Sands
"This amateur production is presented by arrangement with Josef Weinberger Ltd"
Directed by
Dan Dryer
---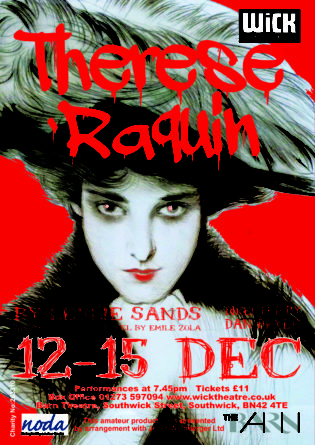 Cast
Rose Hall-Smith – Thérèse
Alex Bond – Laurent
Susanne Crosby – Madame Raquin
Matthew Arnold – Camille
David Peaty – Grivet
Derek Fraser – Michaud
Production Crew
Assistant Director – Sarah Frost
Stage Manager – David Comber
Deputy Stage Manager – Julian Batstone
Lighting Design – Strat Mastoris
Lighting Operation – Martin Oakley
Lighting Operation – Emily Hale
Sound Design – Bob Ryder
Sound Operation – John Garland
Portrait – Judith Berrill
Wardrobe – Maggi Pierce
Wardrobe – Cherry Fraser
Properties – Di Tidzer
Properties – Doffey Reid
Set Design, Construction, Painting – Dave Comber
Set Construction, Design, Painting – Sue Chaplin
Set Design, Construction, Painting – Nigel Goldfinch
Set Design, Construction, Painting – Carl Gray
Set Design, Construction, Scenic painting – Sue Netley
Set Design, Construction, Scenic painting – Gary Walker
Poster Design – Judith Berrill
Photography – Gary Walker
Publicity – Rosemary Bouchy
Publicity – Peter Joyce
Publicity – Maggi Pierce
Front of House – Tor Dunster-Best & The Wick Team
Programme Note #1: Thérèse Raquin
So we wanted to choose a play for the festive season. Something with snow and tinsel, 'how about a ghost story', we thought, 'that's festive'. I then remembered a play I had seen on television in the 1980's, it had been a ghostly tale with visits to a morgue and the enacting of dark deeds… Thérèse Raquin.
When reading the play I couldn't put it down and finished the whole thing in one sitting. I was completely gripped by the action from the outset and had to see how it would end. However, I soon realised that it wasn't so much a ghost story but rather an intriguing psychological thriller, set in the back streets of 1860s Paris. The ghost I had remembered was not a physical apparition but was actually the haunting of the main characters whose sense of reality dissolves as a direct consequence of their actions.
This is a tale of passion, madness and consequences – where people are trapped in a waking nightmare of guilt and paranoia.
So I do hope you enjoy our festive offering, less tinsel perhaps but rather more terrible transgressions. Ho, ho, ho…..