The Barn Theatre, Southwick Community Centre
January 5, 6, 7, 8 & 9 [+mat] 2016
The Ladykillers
by Graham Linehan
Directed by
Tony Brownings
---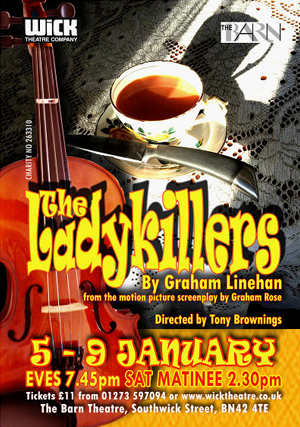 Cast
Judith Berrill – Mrs Wilberforce
Julian Batstone – Constable McDonald
H. Reeves – Professor Marcus
David Peaty – Major Claude Courtney
Mark Best – Mr Harry Robinson
John Garland – Mr 'One Round' Lawson
Dan Dryer – Mr Louis Harvey
Maggi Pierce – Mrs Jane Tromleyton
Caroline Woodley – General Gordon
Rosemary Bouchy – Friend of Mrs Wilberforce
Cherry Fraser – Friend of Mrs Wilberforce
Annabelle Heath – Friend of Mrs Wilberforce
Anita Shipton – Friend of Mrs Wilberforce
Production Crew
Stage Manager – Dave Comber
Deputy Stage Manager – Ian Churchill
Assistant Stage Manager – Peter Joyce
Lighting Design – Martin Oakley
Sound Design – Bob Ryder
Set Design – Richard Ratcliffe [web-ed aka Tony Brownings]
Technical Operation – Martin Oakley
Technical Operation – Brian Jones
Technical Operation – Kieran Pollard
Wardrobe – Maggi Pierce
Wardrobe – Cherry Fraser
Properties – Annabelle Heath
Rehearsal Prompt – Caroline Woodley
Set Construction – David Comber
Set Construction – Nigel Goldfinch
Set Construction – Carl Gray
Set Construction – Gary Walker
Set Construction – Dave Collis
Set Painting – Sue Chaplin
Set Painting – Margaret Davy
Set Painting – Sheila Neesham
Publicity – Peter Joyce
Publicity – Maggi Pierce
Publicity – Rosemary Bouchy
Publicity – Judith Berrill
Poster & Programme – Judith Berrill
Front of House – Betty Dawes
Programme Note #1: The Ladykillers
Biographies – Following in the footsteps…
Tony Brownings has been directing for over forty years now, first at New Venture and for the last eighteen years for Wick Theatre Company. He kind of hopes he is getting the hang of it but when he found he was standing next to Richard Wilson in a Sandwich bar off Kings Road he was very excited. Richard was directing at the Royal Court just round and Tony thought some of Mr Wilson's brilliance might rub off onto him. However the only thing that seems to have rubbed off is Richard's Victor Meldrew grumpiness!
H Reeves's love of theatre started at an early age when his mum, fed up of his showing off in front of their family of five children, sent him to Saturday morning drama club in Montpelier Road Brighton to get it out of his system. Fifty years later H is still showing off! And like Alex Guinness who starred as the film's Professor Marcus, he has appeared in hundreds of productions over the past 50 years with many different companies. This is H's fourth production with The Wick and he is appearing with 'the kind permission of the Southwick Players' where he is a regular performer and director. Apart from appearing in many amateur productions where his credits include Fagin at the Brighton Theatre Royal and Scrooge at the Barn, H has also directed several shows. H undertakes professional work for the Ugly Model Agency – although he says with his looks he can't understand why they are interested in him!
Judith Berrill is following in the footsteps of the delightful Katie Johnson, as the sweet epitome of moral fortitude that is Mrs Wilberforce. Like Katie, Judith has had numerous stage appearances [over 50 for the Wick] but she has yet to achieve the BAFTA which Katie won for her wonderful Mrs Wilberforce. But watch this space as Judith makes her own film debut appearance later this year in the company of Hollywood royalty [unless it all ends up on the cutting-room floor]! The setting of a crumbling Victorian house with dodgy plumbing and lopsided pictures is just like being at home for Judith. She has greatly enjoyed returning to being directed by Tony Brownings, who brought out the best ofher sardines as Dotty Otley in Noises Off. However, he was rather too quick to agree that "ageing up for Mrs Wilberforce will be no problem for you".
Dave Peaty – In his long film career, Cecil Parker was often cast as a 'touchy' British officer type. So his Major Courtney in the original Ladykillers was no surprise .. Or was it? The writer of our stage version seems to have imagined something in Cecil's performance which deserved special emphasis for audiences 60 years on. David Peaty who plays the Major for Wick delights in sharing this surprise with you.
Mark Best – Following in the footsteps of his personal hero Peter Sellers, Mark has taken on many iconic comic rôles and has even appeared as multiple characters in the hit West End show The 39 Steps much like Sellers' legendary performances in Kubrick's Dr Strangelove. The title rôle being a direct influence on the the rôle of the villain, Professor Jordan. To fill Sellers' teddy boy shoes has been a dream! Mark feels he has come a long way from his first stage appearance as a small blonde haired blue eyed boy alongside Christopher Biggins in panto 30 years ago …. reaching to the dizzy heights of 5'7″!
John Garland – Danny Green appeared in many films and TV series over a 40 year period – he made a career as an unnamed tough, but dumb, thug and the rôle of "One-Round" was undoubtedly the highlight. John ha noticed that he too is increasingly being cast as either a villain or a psychopath, despite still regularly auditioning for handsome heroes. Interestingly he and Danny have played the rôle of a slug – Danny in ITV Play of the Week A Tank of Fish [1965] and John a one of The Plotters of Cabbage Patch Corner in his debut year for the Wick [1995]
Dan Dryer – Like the great Herbert Lom, Dan has also played a myriad of parts during his career. He is of course most famous for playing a giant raspberry in a Christmas edition of Casualty [BBC TV series first broadcast in 1986 – web ed] alongside Aled Jones [who was dressed as a giant crocodile]. Afraid of being typecast as the BBC's 'man playing fruit' specialist, Dan followed in Herbert's footsteps by branching out and playing many other characters. Herbert had a famous career spanning more than 60 years, being best known for playing Charles Dreyfus in The Pink Panther movies and of course Louis in The Ladykillers .. Dan, alas did not.
Julian Batstone – Following in the footsteps of such actors as Jack Warner of Dixon of Dock Green [BBC TV series broadcast 1955 to 1976 – web-ed] fame, Julian Batstone plays Constable McDonald, the long suffering policeman whose beat happens to include Mrs Wilberforce's lopsided abode. This is Julian's fourth time playing a policeman on stage, although, unlike Mr Warner, he has not been made an honorary member of any local police force as yet. This is Julian's second time on stage for the Wick although he has performed on many stages from The Bahamas to Oxford. He was last seen as Bernard Wolley [sic] in The Wick' production of Yes, Prime Minister. He is more often found back stage as the deputy stage manager.
Caroline Woodley – Having just been involved in the Duck Variations in Arundel I flew to my perch in the Barn as an 'oven ready' parrot ready for the feather factory! Seriously, I have enjoyed being the voice of a parrot for which I am eminently suitable because I keep parrots at home and have done so for over twenty years. They are not the quietest of pets and tend to answer back with choice anglo-saxon four letter words when annoyed. My next outing for WTC after attending The Birthday Party in March, will be No Sex Please We're British in June. Alas I will not be a parrot this time because I've been demoted to director!
Maggi Piece – Joined the Wick Theatre Company in 1983 acting in the production of Noah. She has form as a member of the blue rinse brigade for her appearance as Mrs Slocombe in the 2006 production of Are You Being Served? Maggi not only acts but is also a leading member of the wardrobe and publicity teams so gets involved in nearly all Wick productions in one way or another.