The Barn Theatre, Southwick Community Centre
October 7, 8, 9 & 10, 2015
Rope
by Patrick Hamilton
Directed by
Guy Steddon
---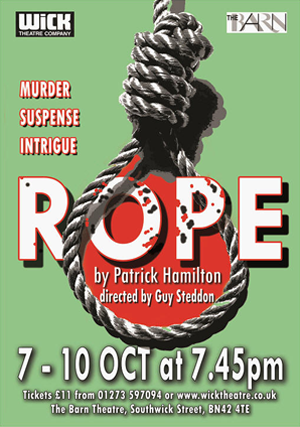 Cast
Matthew Arnold – Kenneth Raglan
Dan Dryer – Rupert Cadell
Derek Fraser – Sir Johnstone Kentley
Sarah Frost – Leila Arden
Natalie Notley – Mrs Debenham
Simon Robinson – Charles Granillo
Guy Steddon – Wyndham Brandon
Peter Thompson – Sabot
Production Crew
Directorial Assistants – Dan Dryer
Directorial Assistants – John Garland
Stage Manager – Julian Batstone
Lighting Design – Martin Oakley
Sound Design – Bob Ryder
Technical Operation – Martin Oakley
Technical Operation – Kieran Pollard
Wardrobe – Maggi Pierce
Wardrobe – Cherry Fraser
Properties – Anita Shipton
Properties – Di Tidzer
Set Construction & Painting – Nigel Goldfinch
Set Construction & Painting – Carl Gray
Set Construction & Painting – Dave Comber
Set Construction & Painting – Dave Collis
Set Construction & Painting – Sue Chaplin
Set Construction & Painting – Sheila Neesham
Set Construction & Painting – Margaret Davy
Set Construction & Painting – Gary Walker
Poster & Programme Design – Judith Berrill
Publicity – Rosemary Bouchy
Publicity – Maggi Pierce
Publicity – Peter Joyce
Publicity – Judith Berrill
Foyer Photography – Ray Hopper
Front of House – Betty Dawes
Programme Note #1: Rope
GS wrote: " Welcome to tonight's performance of Patrick Hamilton's seminal thriller Rope.
Patrick Hamilton was better established as a novelist than a playwright, in fact he only wrote four plays overall, a shame given that two of them – Rope and Gaslight – are rightly regarded as classics. Hamilton's success is attributable to the fact that he would get a good idea and then develop it simply and naturally.
The idea of Rope first came to Hamilton when the details of the notorious Leopold and Loeb murder in America came to light. Rope uses this as more than mere inspiration but actively explores the central idea of the fiercely intelligent men killing another person for supposedly intellectual reasons rather than any real motive.
The central conceit of Rope is so simple and brilliant that it is still 'borrowed' liberally. There has been a murder and the body has been put into a chest, the audience has been informed of this in the opening moments of the play and given the killers' identities. They play then unfolds in real-time as we progress through a macabre social gathering, not knowing if and when the chest's contents will be discovered. Things may well get very tense!
It's a very modern style of theatrical storytelling which makes its age even more startling – the play was first performed in 1929 – and it's a shame the play is less lauded today than the film version made by Alfred Hitchcock nearly 20 years later. This play is a simple one but, as such, it represents theatre at its purest.
When I originally began working on staging this play, the last thing I was thinking of was being a member of the cast. I was more that happy taking the director's chair and was genuinely apprehensive of having to take on a rôle in the play as well as direct. When it became clear that this was the only course of action available that would see the play staged, it was apparent that I'd need a lot of support to be able to move forward. I am delighted to have been given the support by John Garland and Dan Dryer who have been extra ideas, eyes and ears – they have made this a lot less stressful for me! I must also thank the cast and the crew who have been obliging and helpful at every turn and very understanding if I seemed distracted! My sincere gratitude to all who have worked on the play and given their time and help.
Now, it's time to sit back and get ready to get uncomfortable "