The Barn Theatre, Southwick Community Centre
June 24, 25, 26 & 27 2015
Daisy Pulls It Off
by Denise Deegan
Directed by
Diane Robinson
---
2015 NODA South East Region – District 1 – Accolade of Dramatic Excellence
---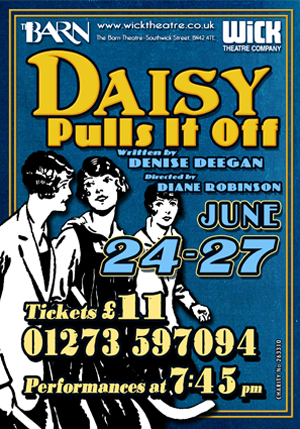 Cast
The Girls
Sophie Lane – Daisy Meredith
Helen Armes – Clare Beaumont
Anna Quick – Sybil Burlington
Sarah Frost – Alice Fitzpatrick
Naomi Horsfall – Trixie Martin
Elizabeth Ryder-Weldon – Belinda Mathieson
Juliette van Noorden – Winnie Irving
Rebecca Hodge – Dora Johnson
Phoebe Williams-Hine – Monica
The Grown-Ups
Judith Berrill – Miss Gibson
Annabelle Heath – Daisy's Mother
Maggi Pierce – Miss Granville
Heather Jefferies – Mademoiselle
Annabelle Heath – Miss Waller
Dan Dryer – Mr Scoblowski
Bob Ryder – Mr Thompson
Production Crew
Stage Manager – David Comber
Deputy Stage Manager – Julian Batstone
Lighting – Kieran Pollard
Lighting – George Dan
Sound Design – Bob Ryder
Sound Operation – George Bundock
Wardrobe – Maggi Pierce
Wardrobe – Cherry Fraser
Properties – Anita Shipton
Properties – Di Tidzer
Set Construction & Painting – Nigel Goldfinch
Set Construction & Painting – Carl Gray
Set Construction & Painting – David Comber
Set Construction & Painting – Dave Collis
Set Construction & Painting – Sue Chaplin
Set Construction & Painting – Sheila Neesham
Set Construction & Painting – Margaret Davy
Set Construction & Painting – Gary Walker
Music Co-ordinator – Elizabeth Ryder-Weldon
Dance Co-ordinator – Sarah Frost
Rehearsal Prompt – Caroline Woodley
Poster Design – Richard Joyce
Publicity – Peter Joyce
Publicity – Maggi Pierce
Publicity – Rosemary Bouchy
Publicity – Judith Berrill
Front of House – Betty Dawes
Programme Note #1: Daisy Pulls It Off
DR wrote: " Jemima! If you're reading this, it must mean production week has begun! Jubilate, What fun!
Well, I would love to be able to say that it has been long held ambition of mine to direct this play but that would not be true! In fact when I was originally asked whether I would like to direct Daisy, I was flattered to be asked, but not overly keen. As an ex-Drama teacher and examiner, I had seen some pretty dreadful renditions of this play and, sadly, had never seen a professional or high quality production.
I was completely wrong to be so skeptical, it is a wonderfully joyous, well-written and entertaining play and in the extremely capable hands of my wonderful cast, it is proving to be an excellent choice of play for the Wick Theatre Company.
The play Daisy Pulls It Off has a cast of 15 and 13 of those are females: a brilliant opportunity to cast a number of Wick Theatre company's very talented actresses. It was also not only current members who were tempted by a play that everyone else saw the potential in but me, for it attracted the wonderful talents of 5 new acting members and the return of two ex-members!
Daisy Pulls It Off is wonderfully entertaining, fast-paced play and hopefully, with the brilliant and talented Wick Theatre Company cast you see before you tonight, you are in for an absolutely spiffing night out!
It only remains for me to say therefore a very big thank you to you for coming to this production and to my lovely, intelligent and committed cast for making the rehearsal process such a joy! "