The Barn Theatre, Southwick Community Centre
March 11, 12, 13 & 14, 2015
Yes, Prime Minister
by Antony Jay & Jonathan Lyn
Directed by
John Garland
---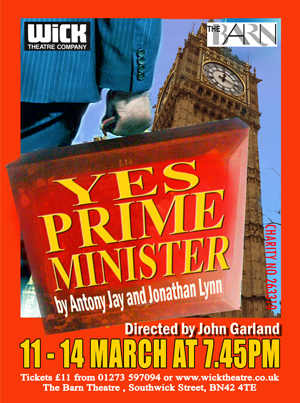 Cast
Annabelle Heath – Simone Chester [BBC Presenter]
Julian Batstone – Bernard Woolley [PM's Principal Private Secretary]
Guy Steddon – Sir Humphrey Appleby [Cabinet Secretary]
Dave Peaty – Jim Hacker [Prime Minister]
Sarah Frost – Claire Sutton [PM's Special Policy Advisor]
Bob Ryder – Robin Simpson [BBC Press Officer]
Tony Brownings – Kumranistan Ambassador
Peter Joyce – Jeremy Burnham [BBC's Director General]
Production Crew
Stage Manager – Dan Dryer
Set Design – Judith Berrill
Lighting & Projection Design – Martin Oakley
Lighting Operation – Kieran Pollard
Lighting Operation – Hannah Talbot
Sound Design – Bob Ryder
Sound Operation – Brian Jones
Set Construction – Nigel Goldfinch
Set Construction – Carl Gray
Set Construction – Gary Walker
Set Construction – David Collis
Set Construction – David Comber
Set Painting – Sue Chaplin
Set Painting – Sheila Neesham
Set Painting – Margaret Davy
Wardrobe – Margaret Pierce
Wardrobe – Margaret Pierce
Properties – Anita Shipton
Properties – Di Tidzer
Poster Design – Judith Berrill
Publicity – Rosemary Bouchy
Publicity – Margaret Pierce
Publicity – Peter Joyce
Programme Design – Richard Joyce
Front of House – Betty Dawes
Programme Note #1: Yes, Prime Minister
JG wrote: " When we discovered early last year that the rights to perform Yes Prime Minister were to become available, it was an obvious choice to schedule it in the run-up to the General Election, and I am grateful to the committee for allowing me to direct once more.
Most of you will be aware of the award-winning TV series that ended in 1988, but this is a new play, premiered at Chichester in May 2010 and then transferring to London where it ran to rave reviews until 2012.
Several of the characters may therefore be familiar, but I have been lucky to have a talented group of actors to re-create them in a unique style and to have a backstage team who have also risen so magnificently to the challenges I have set them.
Whichever way you decide to vote in May, I hope you enjoy your evening and leave slightly more aware that our politicians (from all parties) may be spinning the truth for their own gain! "
Programme Note #2: Yes, Prime Minister
About the Cast
Dave Peaty is fresh from his success Uncle Harvey in Season's Greetings.
Guy Steddon, with Brighton & Hove Art Council best actor and best supporting actor awards to his credit, was last seen as Richard Hannay in The 39 Steps.
Julian Batstone, is new to Wick, coming to us from Adur Theatre Company but for Tony Brownings this is his 37th Wick involvement.
Peter Joyce makes a welcome return to the Barn stage after a 26 year absence.
Sarah Frost, was recently in Season's Greetings and we are delighted to have the experienced actress Annabelle Heath making her first appearance as a Wick member.
About the Authors
Anthony Jay has enjoyed a distinguished career as a writer, broadcaster and producer. He was the founder and editor of the BBC's legendary "Tonight" programme.
Jonathan Lynn's career spans more than four decades as a director, screenwriter, producer and actor as well as an author and novelist. His many movies include Nuns On The Run (which he also wrote) and My Cousin Vinnie.