The Barn Theatre, Southwick Community Centre
January 8, 9, 10 & 11, 2014
Life & Beth
by Alan Ayckbourn
Directed by
Bob Ryder
---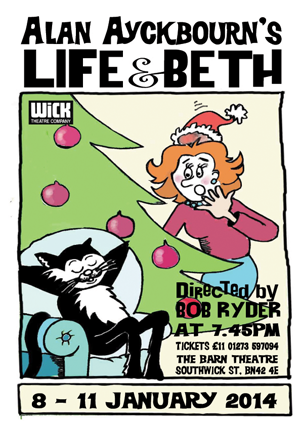 Cast
Hazel Starns – Beth
Zoë Edden – Connie
Dan Dryer – David
Tom Harris – Martin
Sophie Lane – Ella
David Peaty – Gordon
Production Crew
Stage Manager – Zoey Attree
Deputy Stage Manager – Terri Challis
Lighting – Martin Oakley
Sound – Brian Jones
Properties – Anita Shipton
Properties – Di Tidzer
Wardrobe – Margaret Pierce
Wardrobe – Cherry Briggs
Set Construction & Painting – Sue Chaplin
Set Construction & Painting – John Cole
Set Construction & Painting – David Comber
Set Construction & Painting – David Collis
Set Construction & Painting – Nigel Goldfinch
Set Construction & Painting – Carl Gray
Set Construction & Painting – Margaret Davy
Set Construction & Painting – Sheila Neesham
Set Construction & Painting – Martin Oakley
Publicity – Anna Quick
Publicity – Margaret Pierce
Publicity – Rosemary Bouchy
Publicity – Judith Berrill
Front of House – Betty Dawes
Programme Note #1: Life & Beth
BR wrote: " Sir Alan Ayckbourn has worked for more than 50 years as a playwright and theatre director, He is remarkably prolific and popular. To date he has written 78 plays, translated into more that 30 languages, performed on stage and television throughout the world, winning 35 major awards at the last count. All but four of his plays have been premiered in his home town of Scarborough, where he was artistic director of the Stephen Joseph Theatre for 37 years.
In 2006 Alan Ayckbourn suffered a stroke, which threatened to end his active career in the theatre. As he recovered, he initially focussed on resuming work as a director, but was not ready to write again for 18 months. Then on Christmas eve 2007, he announced a new work which would mark his return as a playwright – Life & Beth.
The play was presented as part of the 2008 summer programme in Scarborough, alongside revivals of two earlier Ayckbourn plays, Haunting Julia and Snake in the Grass. There was a loose connection between the themes of Life & Beth and the other two plays, as each has a supernatural element and each tells us something about the ways in which parents affect their children's lives. The other connection was a good old-fashioned 'repertory' consideration – Haunting Julia has a cast of three men, Snake in the Grass has a cast of three women, and the cast of Life & Beth employed the same six actors!
Life & Beth is a consciously light play, where the ghostly elements have a playful echo of Blithe Spirit. But the theme of children being moulded (badly) by their fathers, down the generations, gives a darker edge to the comedy – with the sense that it's the women who get the worst of the deal. The nice thing, ultimately, is we see Beth rising above the situation. By the end of the play, she seems ready to start a new and more fulfilling life, without the worst trappings of the family's past.
Alan Ayckbourn has a genius for creating fine comedy from the unlikeliest of ingredients. Life & Beth bears the hall marks of his vintage writing – eccentric characters, bizarre comic situations, and a wicked sense of humour.