The Barn Theatre, Southwick Community Centre
June 12, 13, 14 & 15 [+mat] 2013
Hi-De-Hi
by Paul Carpenter & Ian Glover
adapted from the original TV series created by Jimmy Perry & David Croft
Directed by
Ben Cassan
---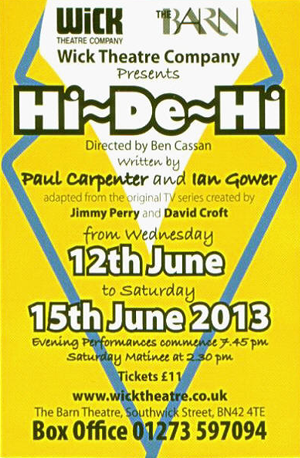 Cast
Anna Quick – Gladys Pugh
Louise Yeo – Peggy Ollerenshaw
Guy Steddon – Jeffrey Fairbrother
Steve Darvill – Ted Bovis
Will McDonald – Spike Dixon
John Garland – Fred Quilly
Richard Bulling – Mr. Partridge
Judith Berrill – Yvonne Stuart-Hargreaves
Bob Ryder – Barry Stuart-Hargreaves
Isi Fink – Sylvia Garnsley
Angie Wright – Hilary Bovis
Ian Grover – Mr. Pritchard
Tegan Rose – Betty Whistler
Zoey Attree – Tracy Bentwood
Rhiannon Armitage – Dawn
Matt Rouse – Gary
Pete Plumb – Bailiff [for one performance before falling ill]
Ben Cassan – Bailiff
Mark Zachery – Trevor
---
Production Crew
Production Assistant – Zoey Attree
Stage Manager – David Comber
Deputy Stage Manager – Terri Challis
Lighting Engineer – Martin Oakley
Sound Engineer – Rhys Skilling
Movie Magician – Martin Oakley
Projection Operator – Nathan Attree
Costume – Ben Cassan
Costume – Wendy Galleymore
Costume – Margaret Pierce
Costume – Cherry Briggs
Properties – Ben Cassan
Properties – Zoey Attree
Workshop Team – David Comber
Workshop Team – Martin Oakley
Set Design – Martin Oakley
Publicity – Anna Quick
Publicity – Rosemary Bouchy
Publicity – Margaret Pierce
Headshots – Ray Hopper
Front of House Co-ordinator – Betty Dawes
---
Programme Note #1: Hi-De-Hi
BC wrote: "Hi-de-Hi campers !!!! And welcome to this fantastic Wick production of the classic 80's sitcom! Having worked with the company before, I was delighted when they asked me to direct this for them, and whilst we have had out ups and downs as a team what you are about to see will show you the incredible amount of dedication, commitment, professionalism and sheer fun tat everyone involved has installed into the production.
I would like to take the opportunity to make special mention of a few people. Firstly to John Garland, Guy Steddon and the entire Wick committee for their support during the rehearsal period in both matters professional and personal. Secondly to the workshop team, who created the fantastic set you are about to see. To Martin Oakley, my linchpin technical co-ordinator, and finally to you, our audience, without whom none of this would be worth it.
One final shout out to the fabulous Paul Shane, Ted Bovis in the original series, who sadly passed away a few weeks ago. You will be sorely missed by all.
Now let us transport you back to the late 1950's and join our vivacious Maplins team in their [mis]adventures. Enjoy the show!!!
Hi-de-hi!!!!"