The Barn Theatre, Southwick Community Centre
June 7, 8, 9, 10 & 11, 2011
The Vagina Monologues
by Eve Ensler
Directed by
Guy Steddon
---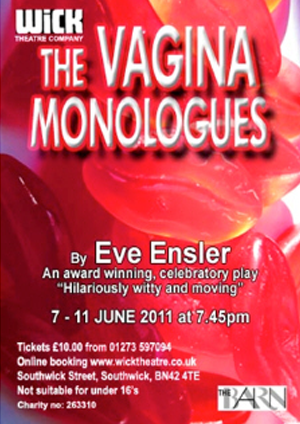 Act 1

Gill Medway : Worried About Vaginas
Anna Quick : A Happy Vagina Fact
Anna Quick : Hair
Zoey Attree : Because He Liked to Look At It
Zoey Attree : Wear & Say
Addie Marten : Wear & Say
Isi Fink : Wear & Say
Sarah Frost : Not-So-Happy-Feet
Natalie Notley : The Flood
Addie Marten : My Vagina Was My Village
Gill Medway : The Vagina Workshop

Act 2
Sarah Frost : My Angry Vagina
Gill Medway : A Six Year Old
Addie Marten : A Six Year Old
Isi Fink : The Little Coochie Snorcher That Could
Natalie Notley : The Woman Who Loved to Make Vaginas Happy
Sarah Frost : Smell
Addie Marten : Smell
Zoey Attree : Smell
Gill Medway : I Was There in the Room
Anna Quick : Reclaiming Vagina
The Cast : Heart & Vagina

Production Crew
Producer – John Garland
Stage Manager – Martin Oakley
Deputy Stage Manager – John Garland
Lighting Design & Operation – Mike Medway
Sound Operation – Jack Hudson
Publicity – Anna Quick
Poster Design – Judith Berrill
Window Display – Rosemary Brown
Photography – Isi Fink
Front of House – Betty Dawes
Box Office – Jane Denyer
Programme Note #1: The Vagina Monologues
GS wrote: " 'What the heck am I doing here?' It's a fair question and one we often find ourselves asking. It was certainly the first question I asked when I found myself in my first meeting as Director of The Vagina Monologues! The truth is I felt wholly unqualified to be in this position. For one simple reason and yet enormous reason – I don't usually have a vagina! And yet; and yet ….
This is one of those scripts it is impossible to ignore. It is one of those plays that has slipped into the common cultural conscious, where it has all but ceased to be a 'just a play', instead becoming a byword for strong and unashamed femininity in the modern era. It is, in short, a phenomenon. Unquestionably the most notorious and well known play of the last fifteen years.
The keyword I have used above is femininity, a word I have used quite deliberately instead of feminism. I think that neatly summarises the appeal of this play, unlike much feminist theatre it has no hidden agenda, does not seek to vilify the entire male race and actually wants to entertain everyone that comes to see it.
When I first encountered this piece I found myself laughing aloud one minute and welling up with emotion the next. Most importantly, I felt included rather than excluded in the proceedings. That was when the truth of the matter hit me – this is, above all else, a brilliant piece of writing. Still that hardly qualifies me to direct the piece! So, once more, 'What the heck am I doing here?'
Well here's the thing – within 30 seconds of starting work on it, I felt comfortable helming this play. I feel this is because I have been blessed to know many strong brilliant women in my life and, as a consequence, have never felt intimidation when faced by powerful femininity. Besides I am here in this world thanks to a vagina so what possible good could come from being squeamish about them?
What is wonderful is that so many other people, of both genders, share my enthusiasm for this play. As such, I have been able to recruit a fabulous cast of performers and a brilliant crew all of whom match the passion I have for this piece.
Particular thanks to my partner in crime on this production, John Garland. Enormous thanks also to the uber talented Mike Medway and Jack Hudson – as well as to all the brave and dedicated performers you will see this evening.
I hope you also enjoy this rather special production and my thanks for supporting the Wick Theatre Company once again."
Programme Note #2: The Vagina Monologues
The Cast – Director and Producer
Zoey Attree – Zoey's appearance heralds a long overdue return to the Wick stage. Having been heavily involved with the running of our youth company – Young Wick – for several years, as well as assisting in numerous backstage rôles for a variety of productions. She has previously performed for Wick in The Exam and Richard lll.
Isi Fink – currently studying performing arts, Isi is another actor that has graduated from our Youth Company. This production marks her second appearance for The Wick following her hilarious performance in Maskerade. She had previously caught the eye with her work in The Thwarting of Baron Bolligrew as the mischievous Mazeppa.
Sarah Frost – currently studying Theatre at Chichester College, Sarah ahs been involved with theatre all her life. She balances her acting work as a dancer and sought-after choreographer. She has co-Directed the Pantomime Captain Righteous and the Christmas Crisis in Shoreham in 2009. Previous acting rôles have included The Collector, Rent and a well received Wick debut in the multi award winning Richard lll.
Addie Marten – the youngest performer in our cast, Addie has risen up to the senior Wick Company from our Youth Group, where she featured in productions as diverse as Our Day Out and The Thwarting of Baron Bolligrew. After a cameo in The Happiest Days of Your Life she has gone on to perform the young lead in Maskerade and featured in the chilling After Midnight, Before Dawn.
Gill Medway – with an acting life that spans numerous genres, a puppet show and two continents, Gill has a whole host of exceptional performances to her credit. In the local area, she is known for her celebrated work in The Graduate, Richard lll, Don't Look Now, and Talking Heads 2 to name but a few. Her most recent Wick performance saw her deliver a wonderfully rye Granny Weatherwax in Maskerade. She balances her acting work with her role as editor on the Essentially Worthing magazine.
Natalie Notley [nee Colgate] – first performed for The Wick as a child in Pinocchio some years ago! Having obviously caught the theatre bug, she then trained at Drama School and went on to perform professionally throughout the UK. Since returning to The Wick she has given a number of critically acclaimed performances in, amongst others, Abigail's Party, Blithe Spirit, Noises Off and Maskerade. She also features for the improvisational troupe Over to You. This production marks her return to the stage following her marriage in Spring this year and her debut as Mrs Notley!
Anna Quick – studied acting at Hull University before going on to perform for a number of different companies at venues across Europe. Since settling in Sussex, she has made many notable appearances in shows such as *Look Back in Anger, Teechers, Shakers and Popcorn for which she won the BHAC Best Actress award 2009 for her chilling and funny performance as the psychotic 'Scout'. Also an accomplished director; she recently brought the critically acclaimed Maskerade to the Barn Theatre stage.
Guy Steddon – although better known for is works as an actor, Guy has directed numerous plays, including a national award winning production of The Accidental Death of an Anarchist [Special Award for Comedy – NSDF 2000]. For Wick he has also directed the much lauded productions of Harvey and Shakers. As an actor he has featured in Richard lll, The Graduate, Popcorn, *Talking Heads 2 and many others, including Look Back in Anger for which he won the BHAC Best Actor Award in 2006.
John Garland – John is, without doubt, the busiest man in the Wick Theatre company serving as our Chairman, one of our busiest actors and most prolific directors! His recent acting credits include Noises Off, Harvey and Popcorn. His directorial successes include Art, Not Now Darling, Communicating Doors and The Secret Rapture. He also produced the one act extravaganza Escapism 3 earlier this year and fits in watching the odd game of rugby when he has free time!!!
[* Look Back in Anger and Talking Heads 2 were both Southwick Players productions – web ed]