The Barn Theatre, Southwick Community Centre.
October 31, November 1 & 2, 1957.
---
The Importance of Being Earnest
by Oscar Wilde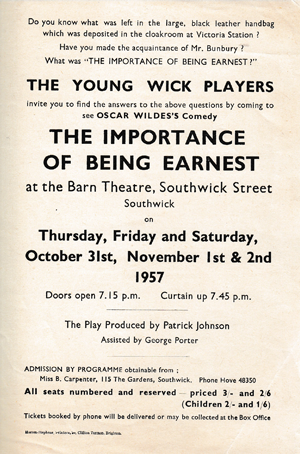 Directed by
Patrick Johnson
Assisted by
George Porter
Cast
Adrian Hedges – Lane
Ian Elliott – Algernon Moncrieff
Patrick Johnson – John Worthing J.P.
Elizabeth Penney – Lady Bracknell
Jean Porter – Hon. Gwendolen Fairfax
Betty Gedge – Cecily Cardew
Betty Carpenter – Miss Prism
Ralph Dawes – Rev. Canon Chasuble, D.D.
Ross Workman – Merriman
Jacqueline McInnes – Tweenie
Production Crew
Stage Manager – Frances Davy
ASM – Clodagh O'Farrell
Prompt – Mary Gedge
Properties – Frances Moulton
Properties – Peggy Cook
Wardrobe – Patricia Holloway
Wardrobe – Judy Wilkey
Wardrobe – Anita Dawes
Effects – Richard Pickard
Stage Lighting – Frank Hurrell
Scenery designer – Ralph Dawes
Front of House Manager – Clive Townsend
---