The Barn Theatre, Southwick Community Centre
January 6, 7, 8 & 9, 2010
Harvey
by Mary Chase
Directed by
Guy Steddon
---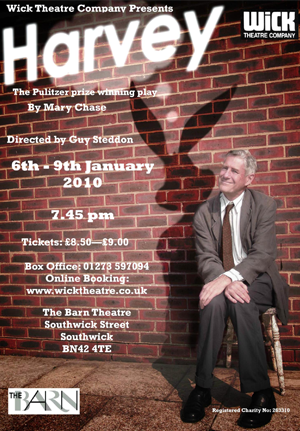 Cast
Olivia Robinson – Myrtle Mae Simmons
Judith Berrill – Veta Louise Simmons
Bob Ryder – Elwood P Dowd
Izzy Hudson – Miss Johnson / Dunphy
Joan Bearman – Ethel Chauvenet
Natalie Colgate – Ruth Kelly
John Garland – Duane Wilson
Will Hackett – Dr. Lyman Sanderson
Tony Brownings – Dr. William Chumley
Gill Etter – Betty Chumley
Anna Quick – Henry
Paul Checkley – Judge Omar Gaffney
David Creedon – E. J. Lofgren
Harvey – Himself
Production Crew
Assistant Director – Anna Quick
Stage Manager – Fiona Cameron
Deputy Stage Manager – Zoey Attree
ASM – Martin Oakley
Lighting – Mike Medway
Sound – Jack Hudson
Backstage Crew – Anna Quick
Props – Anna Quick
Props – Di Tidzer
Props – Natalie Colgate
Wardrobe – Cherry Briggs
Wardrobe – Margaret Pierce
Wardrobe – Zoey Attree
Set Design & Construction – Sue Chaplin
Set Design & Construction – Paul Checkley
Set Design & Construction – David Collis
Set Design & Construction – David Comber
Set Design & Construction – Margaret Davy
Set Design & Construction – Carl Gray
Set Design & Construction – Sheila Neesham
Portraits – Sue Chaplin
Portraits – Judith Berrill
Original Score – Steve Gallant
'Harvey' Design – Andy Etter
Poster Design – Christopher Scally
Poster Design – Anna Quick
Poster Design – Guy Steddon
Poster Photograph – Steve Gallant
Publicity – Rosemary Bouchy
Publicity – Lucien Bouchy
Publicity – Rosemary Brown
Production Photos – Lucien Bouchy
Front of House – Betty Dawes
Programme Note #1: Harvey
GS wrote: "When I realised that I would be directing the first Wick Theatre Company production of the new decade, I decided almost right away that it was to be Harvey. A new year, a new decade no less, brings with it a hopeful air, a desire to see the world in a better light.
Harvey echoes this sentiment perfectly. This wonderful show is shamelessly upbeat and life-affirming. Only a cynical, miserable person could not fail to be enchanted by Elwood P Dowd and his unusual companion. Elwood has long ago got reality just where he wants it, but his family and friends want him to occupy the reality they reside in. More fool them! We should all want to be like Ellwood and be friendly and endearing to all we meet. The brilliance of Mary Chase's script is that this is both her moral and the source of her rich comedy.
Harvey was originally produced under the title The White Rabbit in 1944, right in the midst of World War ll and – with its positive, life affirming message – was all the welcome because of it. The play went on to win the Pulitzer Prize and was subsequently filmed several times, most famously with James Stewart playing Elwood in an Oscar Winning movie [1950]. It is a rôle that he would often return to, and that he will forever be associated with.
It has been a wonderful joy to bring this production together – an incredible cast and superb production team have really gotten behind this. I hope you enjoy it as much as we have!
Lastly, from all of us at The Wick Theatre Company, a very Happy New Year to you.
We look forward to seeing you at the next show!"