The Barn Theatre, Southwick Community Centre
April 10, 11, 12 & 13 2002
The Importance of Being Earnest
by Oscar Wilde
Directed by
Margaret Ockenden
---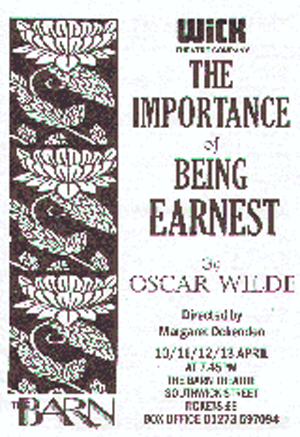 Cast
Phil Balding – John Worthing
Kevin Isaac – Algernon
Claire Wiggins – Gwendolyn
Candice Gregory – Cecily
Olive Smith – Lady Bracknell
Hugh Hemmings – Lane
Rosemary Mose – Miss Prism
Derek Fraser – Dr Chasuble
Simon Druce – Merriman
Linda Mostyn – Maid
Production Crew
Stage Manager – David Comber
Assistant to the Director – Caroline Blick
Lighting Design – Mike Medway
Lighting Technician – Chris Grey
Sound – Simon Snelling
Set Design – David Comber
Set Building – David Comber
Set Building – David Collis
Set Building – Brian Box
Set Building – Mike Davy
Set Building – Marc Lewis
Set Painting – Sheila Neesham
Properties – Sue Whittaker
Properties – Margaret Davy
Wardrobe Team – Margaret Pierce
Wardrobe Team – Cherry Briggs
Wardrobe Team – Judith Berrill
Hair Design – Sheila Neesham
Press & Publicity – Rosemary Bouchy
Press & Publicity – Rosemary Brown
Press & Publicity – Judith Berrill
Box Office – Margaret Murrell
Front of House Co-ordinator – Valerie Bray
Programme Note #1: The Importance of Being Earnest
MO wrote: "The impact of The Importance of Being Earnest on the first night audience of 1895 can only be imagined. To be invited to laugh at the pretences and foibles of the aristocracy would have been shocking, but, oh such fun.
I wonder about Wilde's impact on theatre and television had he been born 100 years later. What a chat show guest! What plays he would have written! he may even have been offered a knighthood. Would he have accepted? I think so.
The Importance of Being Earnest is well known for having been written one summer in Worthing, which is the name given to our hero and there allusions in the names of Lady Lancing and Lord Shoreham. Oscar was clearly inspired by his sunny surroundings for his play is light hearted and full of fun. Much of the plot is about the 'grand art of lying'. His characters practice this with panache, coming across entirely sincere.
And there's a story behind the comic opera aspect of Act III, Gilbert and Sullivan wrote the comic opera Patience, parodying the aesthetic movement and a notable member, Oscar Wilde. Wilde replied by using elements of Gilbert and Sullivan in this act, when at times the characters speak and move in unison and the feel-good factor of the operetta is reflected in the Cinderella ending of the play."