The Barn Theatre, Southwick Community Centre
December 18, 19 [17.00hrs], 20, 21 & 22, 1999
A Christmas Carol
by Charles Dickens
Directed by
Tony Brownings
---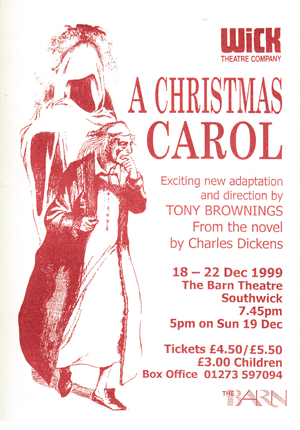 Cast

David Goodger – Ebenezer Scrooge
Bob Ryder – Bob Cratchit
Kevin Isaac – Fred [Scrooge's nephew]
Peter Thompson – Portly Gentleman [1]
John Barham – Portly Gentleman [2]
David Creedon – Marley's Ghost
Judith Berrill – Ghost of Christmas Past
Tom Cullen – Scrooge, as a boy
Jane Richards – Belle
John Garland – Scrooge, as a young man
Helen Armes – Fran
Peter Winstone – Dick Wilkins
Ralph Dawes – Mr. Fezziwig
Joan Bearman – Mrs. Fezziwig
Laura Isaac – Lotty Fezziwig
John Barham – Ghost of Christmas Present
Margaret Pierce – Mrs. Cratchit
Stuart Isaac – Peter Cratchit
Liz Nowak – Belinda Cratchit
Becky Hodge – Martha Cratchit
Christopher Brownings – Tiny Tim
Julie le Manquais – Agnes [Fed's wife]
Jane Richards – Maude [her sister]
John Garland – Topper
Margaret Ockenden – Old Meg
Diane Robinson – Charwoman
Rosemary Bouchy – Laundress
David Creedon – Undertaker's Man
Judith Berrill – Ghost of Christmas Yet to Come
David Brownings – Beggar Boy / Ignorance
Annette Thompson – Beggar Girl / Want
Tom Cullen – Young Boy
Mark Flower – Businessman
Ralph Dawes – Businessman
Peter Winstone – Businessman
Peter Thompson – Businessman
Derek Fraser – Carol Singer
Nick Ryder – Carol Singer
Jane Richards – Bell Ringer
Joan Bearman – Bell Ringer
Ralph Dawes – City Folk
Rosemary Bouchy – City Folk
Julie Le Manquais – Party Guest
Linda Mostyn – Party Guest
Valerie Bray – Party Guest
Production Crew
Musical Director – Kati Szeless
Stage Manager – David Comber
ASM – Olive Smith
ASM – Marc Lewis
ASM – Dave Collis
Lighting – Mike Medway
Lighting – Simon Snelling
Set Construction – David Comber
Set Construction – Dave Collis
Set Construction – Brian Box
Set Construction – Mike Davy
Set Construction – Marc Lewis
Set Painting – Frances Thorne
Set Painting – Sheila Neesham
Properties – Sue Whittaker
Properties – Margaret Davy
Costumes – Frances Moulton
Press & Publicity – Rosemary Bouchy
Press & Publicity – Frances Thorne
Press & Publicity – Rosemary Brown
Design, Graphics & Photography – Judith Berrill
Assistant to the Director – Betty Dawes
Box Office – Margaret Murrell
Front of House Manager – David Pierce
Front of House Manager – Brian Moulton
Programme Note #1: A Christmas Carol
TB wrote "Charles Dickens was just 31 when he wrote A Christmas Carol, though already he had enjoyed huge popular success with 'The Pickwick Papers', 'Oliver Twist', 'Nicholas Nickleby' and 'The Old Curiosity Shop'. He began writing it in October 1843 and had it on sale in the bookshops the week before Christmas – about the same length of time we have taken to rehearse this new adaptation for the stage!
Dickens actually wrote A Christmas Carol while working hard to produce the monthly episodes of 'Martin Chuzzlewit' for his magazine readership. He once described how, in that busy autumn of 1843, he would walk the streets and alley-ways of London in the middle of the night, with his mind racing about the chapters he would write the following day.
What drove him to work so furiously on the book? To begin with, he felt driven to attacks social injustice of child poverty and exploitation. Just before he began the Carol, he had lectured in Manchester on the perils of 'Want' and 'Ignorance', which he then brought so vividly to life in the book. But he was also driven to show the power of redemption – the chance to confront past memories and present truths, and to build a better future. Through Scrooge, Dickens invites us all to embrace the universal values of friendship, family and the generosity of the human spirit.
I set about this new adaptation for the stage because I felt that many earlier versions had strayed a long way from the mood which Charles Dickens created, either watering down his tone or making it more sentimental than he intended. By going back very closely to the dialogue which he wrote for his characters, I hope that we are now presenting a play which is much more faithful to the spirit of the book.
It has been enormous fun working with the large team of Wick members [and their children!] who have come together to create this production. A Christmas Carol is not only a cracking good story, it should be a heart-warming, uplifting experience as well. So we hoe that you enjoy this production and feel its cheer spreading into the festivities ahead.
A very merry Christmas to you all!"