The Barn Theatre, Southwick Community Centre
June 28, 29, 30 & July 01 1995
Outside Edge
by Richard Harris
Directed by
Samir Rahim
---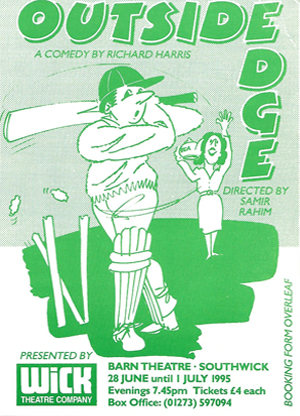 Cast
Vic Gough – Roger
Judith Williamson – Miriam
John Garland – Bob
George Illman – Dennis
Jeff Nicol – Kevin
Heather Richards – Maggie
Claire Wiggins – Virginia aka Ginnie
Ken Dorey – Alex
Kati Szeless – Sharon
Production Crew
Stage Manager – Jessana Palm
Production Assistant – Jean Porter
Set Design – Dave Comber
Lighting – Trevor Langley
Sound Design – Greg Starns
Sound – Frances Thorne
Set Construction – Brian Box
Set Construction – Michael Davy
Set Construction – Dave Collis
Set Construction – Dave Comber
Set Construction – Ralph Dawes
Set Construction – Mark Flower
Set Painter – Frances Thorne
Set Painter – Sheila Neesham
Properties – Margaret Davy
Properties – Sue Whittaker
Wardrobe – Jane Porter
Front of House Manager – Mark Flower
Publicity – Judith Williamson
Publicity Photography – George Laye
Programme Note #1: Outside Edge
SR wrote: "Richard Harris is razor sharp with his characterisations in Outside Edge. From the myopic Roger to the utterly confused Bob, all his characters are wonderfully written. This play is more than a light breeze through a Saturday afternoon game of cricket. It talks of relationships and the breakdown of communication. It deals with age and the constant battle between manhood and its responsibilities and the pursuit of youth and its frivolities. His wit and humour aids us to share, feel and indeed accept the players' failings even through the cruelest [sic] actions and comments. I am guilty of watching one episode of the TV series and am happy to say there is no comparison between this production and that one.
We have a fast paced, hilarious trip into the territory of Roger as he guides his team to the toughest task yet – pitching his men against the opposition of the combined and slightly more than belligerent might of the British Railways [Maintenance Division], Yeading East!
I would like to thank the Wick Theatre Company for this opportunity to direct with them. My thanks to the cast and crew and all those members who offered their services so willingly.
I would also like to thank you, the audience, for coming to see the show and keeping live theatre just that ….ALIVE"
Programme Note #2: Outside Edge
"Samir Rahim obtained a Bachelor of Arts degree in Theatre Arts from America where he had the opportunity to direct and act in a variety of productions. Among the most memorable are Caucasian Chalk Circle, Oedipus Rex, Orchards and Prelude to a Kiss. He had the distinction of writing and directing A Family Affair which won the American Arts Festival for the New England Area and, later that year he was rated in the top ten per cent of College Actors for 1991.
Outside Edge will be his directorial debut for the Wick but he has acted with us in Twelfth Night and Rape of the Belt for which he went on to win the 'Best Comedy Actor' award in the Brighton Festival. [ed; probably the Brighton & Hove Drama Festival] Samir has equity points and hopes to turn professional in the next few years. He is twenty five and lives in Brighton with his American college sweetheart, Jessana. "
---