The Barn Theatre, Southwick Community Centre
June 4, 5, 6, 7 & 8 1991
Amadeus
by Peter Schaffer
Directed by
Jean Porter
---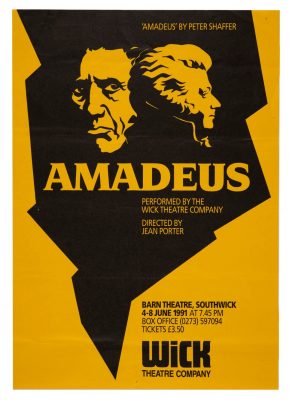 Cast
Philip Balding and Patrick Johnson – The 'Venticelli'
Martin Tew – Valet to Salieri
Mark Flower – Cook to Salieri
Bob Ryder – Antonio Salieri
David Creedon – Joseph 11, Emperor of Austria
George Illman – Johann Killian von Strack, Groom of the Imperial Chamber
John Barham – Count Orsini-Rosenberg, Director of the Imperial Opera
Brian Moulton – Baron von Swieten, Prefect of the Imperial Library
Stanley Jones – Capellmeister Bonno
Sue Whittaker – Madame Salieri
Jane Porter – Catherina Cavalieri
Judith Berrill – Constanza Weber
Adrian Kenward – Wolfgang Amadeus Mozart
Philip Burton – Major-Domo
Anna Barden – ensemble characters, servants, citizens of Vienna, a Priest
Joan Bearman – ensemble characters, servants, citizens of Vienna, a Priest
Joan Braddock – ensemble characters, servants, citizens of Vienna, a Priest
Janet Comber – ensemble characters, servants, citizens of Vienna, a Priest
Dave Comber – ensemble characters, servants, citizens of Vienna, a Priest
Dave Collis – ensemble characters, servants, citizens of Vienna, a Priest
Margaret Davy – ensemble characters, servants, citizens of Vienna, a Priest
Ralph Dawes – ensemble characters, servants, citizens of Vienna, a Priest
Liz Gibson – ensemble characters, servants, citizens of Vienna, a Priest
Sheila Neesham – ensemble characters, servants, citizens of Vienna, a Priest
Ann Terry – ensemble characters, servants, citizens of Vienna, a Priest
Julia Tew – ensemble characters, servants, citizens of Vienna, a Priest
Claire Wiggins – ensemble characters, servants, citizens of Vienna, a Priest
Production Crew
Technical Director – George Laye
Musical Co-ordinator – Patrick Johnson
Stage Manager – Dave Collis
Lighting & Sound Effects – Jamie Boath
Lighting & Sound Effects – Frances Thorne
Set – Ralph Dawes
Set – Dave Collis
Set – Dave Comber
Set – Brian Box
Set – Mike Davy
Set Painter – Frances Thorne
Properties – Margaret Davy
Properties – Sue Whittaker
Continuity – Audrey Laye
Wardrobe Mistress– Margaret Faggetter
Wardrobe Assistant – Rosemary Biggs
Wardrobe Assistant – Betty Dawes
Wardrobe Assistant – Frances Moulton
Wigs – Chris Horlock
Front of House Manager – Mike McNish
Photography – George Laye
Box Office – Jill Redman
Publicity – Andrew Cregeen
Publicity – Ann Donkin
Publicity – Jean Porter
Programme Note #1: Amadeus
JP wrote: "Amadeus is the Wick Theatre Company's prestige summer production, happily coinciding with the international celebration of the 'Mozart Bi-Centenary'.
I have tried to bring together an exciting display of the talent we are so lucky to have in the Company, and to present the play in a form I hope will delight your eyes, your ears – and your emotions! I am sure that our cast and the fine team of technicians, who support the Wick and the Barn Theatre as a whole, will give you an evening to remember. It has been a marvellous experience to work with them all as a Director.
If you enjoy this performance and feel that this is the sort of venture you might like to see yourself taking part in, why not join us? You will find information about membership below.
Meanwhile, I leave you to sit back in comfort and enjoy the truly exciting theatrical experience which we have in store for you!"
Programme Note #2: Amadeus
Background
Wolfgang Amadeus Mozart was born in 1756 and died in Vienna in 1791. In his short life his output as a composer was quite phenomenal in its quantity. But it was also unsurpassed in its quality. Mozart is now acknowledged as the absolute master of all the musical forms which existed in his own time.
The play starts in 1781, when Mozart was about to settle in Vienna. He was then just 25 years old but already famous across Europe as a composer and performer. Vienna was the musical capital of Europe and Mozart was out to seek his fortune away from the possessive attention of his father, Leopold.
Mozart worked prodigiously hard in the 10 years of life that remained to him in Vienna. The great flow of his mature work poured out of him with apparently supreme ease. He also seems to have found time to enjoy his boyish relaxations of drinking, dancing and billiards, as well as becoming a much-loved young husband and father. He achieved a high reputation and a fair degree of prosperity, at least for a few years. But he was not the best of businessmen and his circumstances worsened considerably in the last two years of his life. When he died, there were substantial debts for the distraught young wife, Constance, to try to settle.
Antonio Salieri was born in 1750 [six years before Mozart] and died in Vienna, a demented old man of 75, in 1825 [surviving Mozart by 34 years]. He was, in the eyes of all his contemporaries a thoroughly good and worthy man. He studied with enormous dedication as a youth – as a student of the keyboard, of singing, composition and languages. His appointment as Court Composer, at the remarkably early age of 24, put him in one of the most influential musical posts in Europe. He strengthened his grip on the musical establishment with his appointment as First Kapellmeister in 1788 [when he was 38] – a post which he held almost until his death.
Salieri's works are now barely remembered. His main output consisted of Italian Opera [of a kind that was thought 'old fashioned' even in its own day] and in his devout youthful years, of church music. His work remained popular throughout the 1780's and, together with the patronage he received from the Emperor, made him much more financially successful than his slightly younger rivals, such as Mozart. As a composer, he is now regarded as unimaginative, ordinary, even mediocre. His gradual decline in popularity began – ironically – just after Mozart's death. He wrote another dozen operas, none of the successful, and retired as a composer in 1804. He continued to work as a highly-respected teacher, among his many illustrious pupils were Beethoven, Schubert and Lizst! He was smothered with official honours from the Emperor.
The circumstance of Mozart's death remain a mystery to this day. The dreadful symptoms of his illness point to a combination of possible causes – rheumatic fever, kidney failure and blood poisoning. Within weeks of his death, rumours sprang up that he might have been deliberately poisoned by a rival. The gossip died down, until, in 1823, the sad, senile, Salieri suggested that he might – just might, in some way – have contributed to Mozart's decline.
There is no hard evidence that Salieri ever did anything to harm Mozart, in fact, Mozart's surviving letters record how complimentary Salieri was about the younger man's music – most of all about The Magic Flute, just a few months before Mozart's death! But it is possible – just possible – that Salieri, through his enormous influence at Court and in the musical establishment, did indeed hold back Mozart's career. And … just possible that he did more than that.
From the threads of mystery and speculation, Peter Schaffer has woven a masterly play about the roots of genius – and about the fatal danger of envy in people who, in recognising genius in someone else, can only suffer the cruel realisation of how average and ordinary they themselves are!