The Barn Theatre, Southwick Community Centre
September 24, 25, 26 & 27 [+mat] 1986
Pygmalion
by George Bernard Shaw
Directed by
Lorraine Hanner
---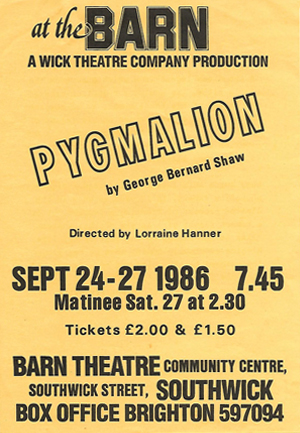 Trudy Nash – Clara
Margaret Ockenden – Mrs. Eynsford-Hill
Peter Joyce – Freddy
Lorraine Hanner – Eliza
Ronald Cheesman – Colonel Pickering
Paddy Buxton – Professor Higgins
Daphne Thornton – Mrs. Pearce
Ralph Dawes – Alfred P. Doolittle
Betty Dawes – Mrs. Higgins
Joanna Hopper – Parlourmaid
Paul Brand – Bystander
Keith Denyer – Bystander
Joan Bearman – Flower Seller
Eddie Fletcher – Flower Seller
Mick Popple – Flower Seller
Anna Barden – Theatre Goer
Dorothy Edney – Theatre Goer
Margaret Faggetter – Theatre Goer
Jim Biggs – Theatre Goer
Martin Cramp – Theatre Goer
Production Crew
Continuity – Daphne Thornton
Continuity – Margaret Ockenden
Stage Manager – Mark Flower
Assistant – David Comber
Assistant – Dave Collis
Assistant – Brian Box
Assistant – John Barham
Assistant – Julian Rose
Set Design – Vincent Joyce
Set Construction – Mark Flower
Set Construction – Dave Collis
Set Construction – David Comber
Set Construction – Brian Box
Set Construction – Ralph Dawes
Set Construction – Mike Davy
Set Construction – Vernon Strevens
Properties – Margaret Davy
Properties – Sue Whittaker
Costumes – Pat Moss
Costumes – Dorothy Edney
Costumes – Lorraine Hanner
Lighting Design – Frank Hurrell
Lighting Box – Frank Hurrell
Lighting Box – Frances Thorne
Sound Effects – Frank Hurrell
Sound Effects – Ian Naylor
Front of House – Frank Child
Programme Note #1: Pygmalion
LH wrote: "In the Greek legend from which Shaw took the play's title, the sculptor Pygmalion created the statue of his ideal woman as he despised the behaviour of real women on his island of Cyprus. He fell in love with his own creation and when it was brought miraculously to life, they married.
Shaw turns this legend on its head – Higgins is interested only in the limited process of creating a duchess out of a common flower girl in 6 months, whereas Eliza is interested in the rest of her life. Higgins eventually admits that he has grown 'accustomed to her voice and appearance' and says that she should stay 'for the fun of it', but this may not be enough to satisfy Eliza…..
WARNING. Ambitious flower girls who watch this play must not imagine that they can pass themselves off as fine ladies by untutored imitation. They must learn their alphabet over again, and different, from a phonetic expert. Imitation will only make them ridiculous."
Programme Note #2: Pygmalion
"What is life but a series of inspired follies – the difficulty is to find them to do"
Britain 1912
Lloyd George has his National Insurance and Invalidity Act passed by both the House of Commons and the House of Lords, despite great opposition.
The SS Titanic, with 2,224 people on board, sank while on her maiden voyage across the Atlantic with the loss of 1,513 lives.
Mrs. Pankhurst and Mrs. Pethwick-Lawrence famous leaders of the Suffragette movement, were sentenced to 9 months imprisonment for civil disobedience.
In Europe, the war clouds were gathering
Shaw completed Pygmalion.