The Barn Theatre, Southwick Community Centre
May 27, 28, 29, 30 & 31 1986
The Noble Spaniard
by Somerset Maugham
Directed by
Betty Dawes
---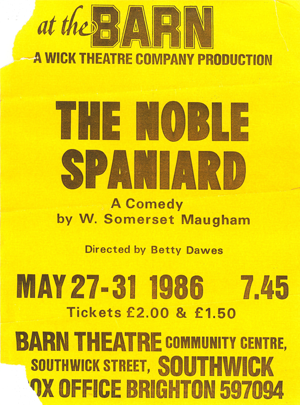 Cast
Frances Moulton – Lady Proudfoot
Brian Moulton – Mr. Justice Proudfoot
Margaret Faggetter – Marion Nairn [a young widow]
Karen Mulholland – Lucy [her sister]
Dorothy Edney – Mary Jane [a maid]
Barry Heselden – Captain Chalford
Michael Donkin – Count de Moret [a Frenchman]
Joan Bearman – Countess de Moret [his English wife]
Eddie Roberts – The Duke of Hermanos [a Spaniard]
Production Crew
Continuity & Assistance – Jean Porter
Stage Design – Mark Flower
Properties – Margaret Davy
Properties – Sue Whittaker
Set Design – Ralph Dawes
Construction – Ralph Dawes
Construction – Michael Davy
Construction – Mark Flower
Construction – Dave Comber
Construction – Dave Collis
Construction – Frances Thorne
Additional Set Painter – Smudge Roberts
Additional Set Painter – Frances Thorne
Lighting Design – Frank Hurrell
Lighting Box – Frank Hurrell
Front of House Manager – George Porter
Box Office – Jill Redman
Programme Note #1: The Noble Spaniard
Frances Moulton has been a member of Wick Theatre Company for 30 years and in that time has taken such varied parts as Aunt Penniman in The Heiress, Elizabeth Barret Browning in The Barretts of Wimpole Street, Maggie in Hobson's Choice and Lil in Fings Ain't What They Used To Be. She also directed many Wick plays, including Pride and Predjudice, Sailor Beware and the one-act Festival winner Streuth. She has also been in several County plays from the first one The Mad Woman of Chaillot to Oh What a Lovely War.
Brian Moulton joined the Company in 1955 and made his first appearance in 1956 in Life with Father. Since then he has acted and directed for Wick and also for some time was Workshop Director for the construction of sets. Among his many rôles he has appeared as Eddie in View from the Bridge, Othello, the father in Spring and Port Wine, Hobson in Hobson's Choice, King Henry Vlll in A Man for all Seasons and King Henry ll in The Lion in Winter.
Margaret Faggetter attended the Brighton and Hove School of Music and Drama, where she studied all aspects of acting. She joined Wick Theatre Company in 1983 to play Gwan in Trespass. Since then she has appeared as Sheila in Noah, Mrs. Knepp in And So To Bed and the Cat in Pinocchio.
Eddie Roberts first trod the boards for Wick in 1983 playing Saviello in Emlyn Williams' Trespass. He has since played many parts with different Sussex Companies, among them being Lazar Wolf in Fiddler on the Roof with the Gemini Players, de Quadra in Vivat Vivat Regina in the Arundel Festival, Finneas Fogg in Sweeny Todd, to mention a few. Following this production he is to play Fagin in Oliver at the Gardner Centre in July.